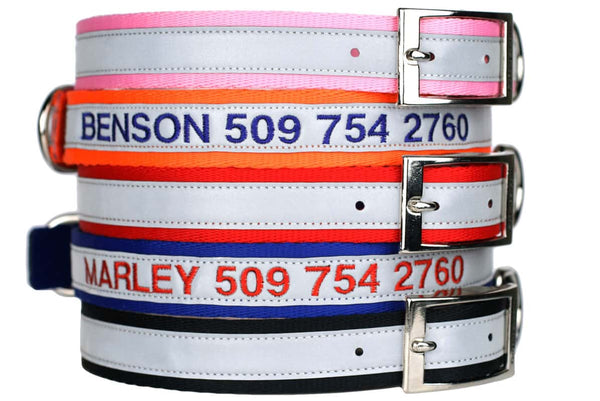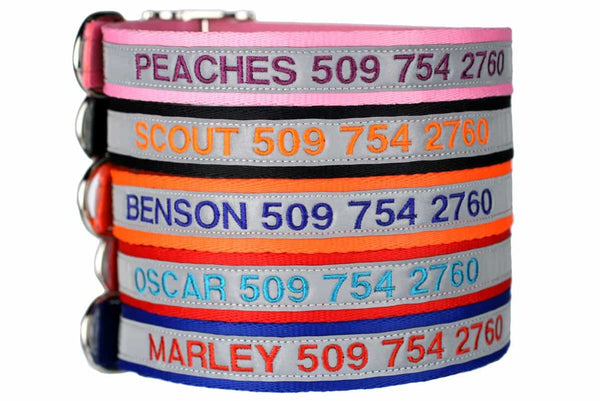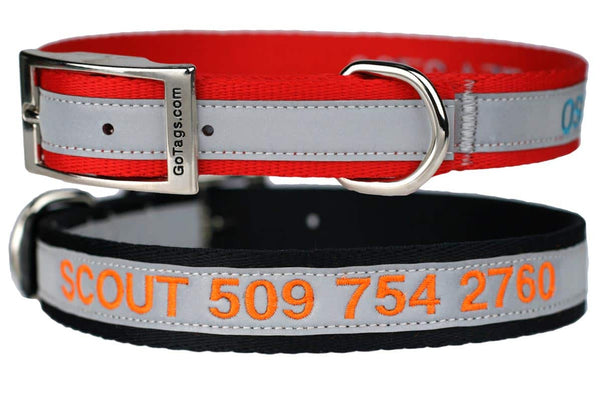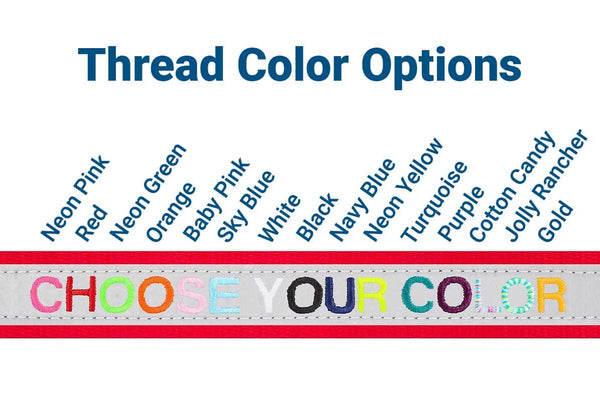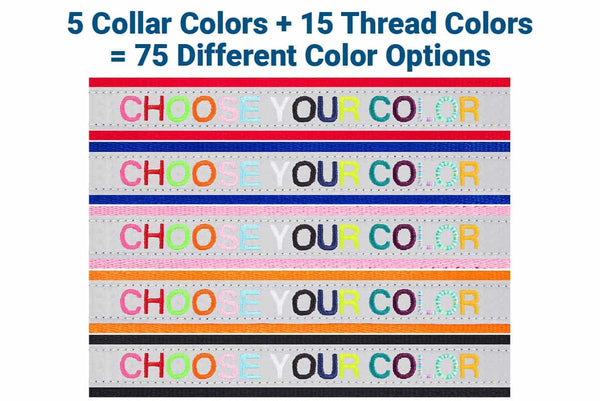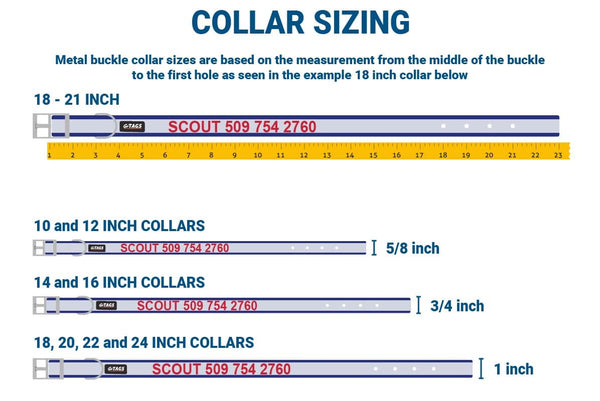 Personalized Embroidered Reflective Dog Collar with Metal Buckle
This highly reflective custom dog collar is made to be durable and comfortable with strong but soft premium nylon webbing. Customize by choosing from 5 collar colors and one of 15 thread colors, then add up to 25 characters (including spaces) to permanently embroider your dog's name and phone number for long-lasting identification that has the added benefit of being silent. And to ensure your dog's ID stays clean, it's machine washable for hassle-free cleaning. If you enjoy morning or evening walks with your pup, or own an escape artist, a personalized dog ID collar with this level of visibility in low light is what he needs. Far from ordinary, this collar is paw-sonal.
Pairs with our matching Dog Leash.
Features and Benefits:
Highly reflective collar helps keep your dog visible and safe in low-light.
Embroidered with your dog's name and phone number (up to 25 characters including spaces), to ensure they always have ID.
Silent identification that won't fall off, scratch, or fade.
Choose from 5 collar collars and 15 thread colors to suit your dog's paw-some character.
Made with durable but soft premium nylon that is machine washable.
Stainless steel buckle and nickel plated steel D-ring for attaching leash and tag.
Not recommended for tie out use.
Collar Sizing:
To get an accurately sized collar to fit your dog, measure the center of their neck with a cloth tape measure or piece of string, a few inches down from their head. Pull the tape/string snug, but not tight. If you used a piece of string, measure it with a rigid ruler afterwards. Our metal buckle dog collars each have 4 sizing holes and are sized from the first hole to the last; the first hole is the smallest the collar will adjust down to, and the remaining holes allow the collar to widen for a comfort fit.
| Size | Neck | Width |
| --- | --- | --- |
| 10 - 12.25 inches | 10 - 12.25 inches | 5/8 inch |
| 12 - 14.25 inches | 12 - 14.25 inches | 5/8 inch |
| 14 - 16.25 inches | 14 - 16.25 inches | 3/4 inch |
| 16 - 18.25 inches | 16 - 18.25 inches | 3/4 inch |
| 18 - 21 inches | 18 - 21 inches | 1 inch |
| 20 - 23 inches | 20 - 23 inches | 1 inch |
| 22 - 25 inches | 22 - 25 inches | 1 inch |
| 24 - 27 inches | 24 - 27 inches | 1 inch |
Customer Reviews
Write a Review
Ask a Question
09/30/2023
candi w.

United States
Great Collar
Perfect collar. Durable, reflective, comfortable. We have 3. Would definitely buy again.
09/14/2023
Jane N.

United States
Fantastic Reflection
The name and phone number on the dog collar is clear.
08/28/2023
Pat R.

United States
Love these collars!
This is the only place I've found that makes personalized reflective collars. They are high quality and look great, I've ordered for both my dog and my cat. Ordering directly thru the company is worth it - the color selection was better than on Amazon, shipping was fast, and they - at no charge - replaced a collar that I ordered in the wrong size. Wonderful made-in-America company!
07/30/2023
Stephanie M.

United States
Great Quality, Quick Shipping
Sent it as a gift and it was much appreciated! Loved all of the color combinations offered.
07/19/2023
Paula H.

United States
Pumpkin's GoTag
My new rescue dog was afraid of the noise her tags made, so the GoTag is perfect.
Close (esc)
LABOR DAY SALE
In celebration of our pets working hard to keep us sane this past year
GoTags is offering 15% off sitewide!
Discount will be automatically applied at checkout
Age verification
By clicking enter you are verifying that you are old enough to consume alcohol.