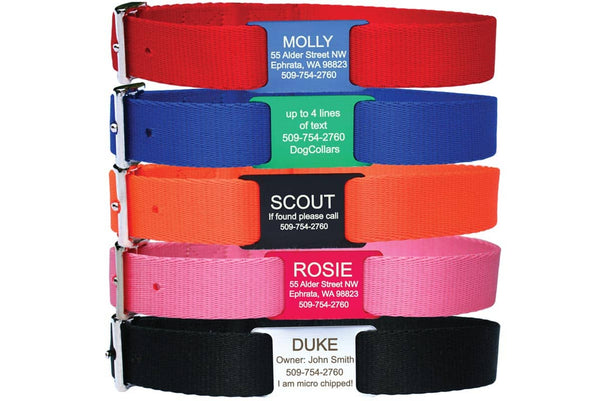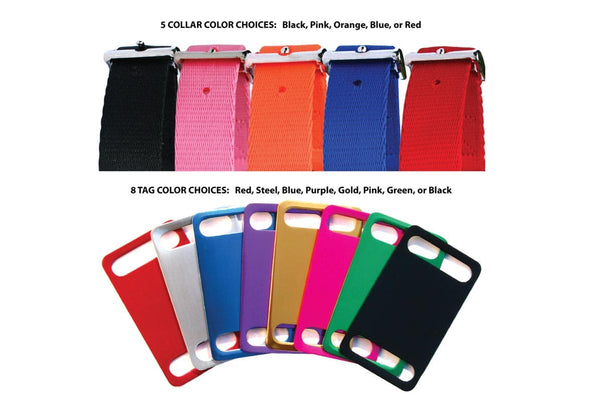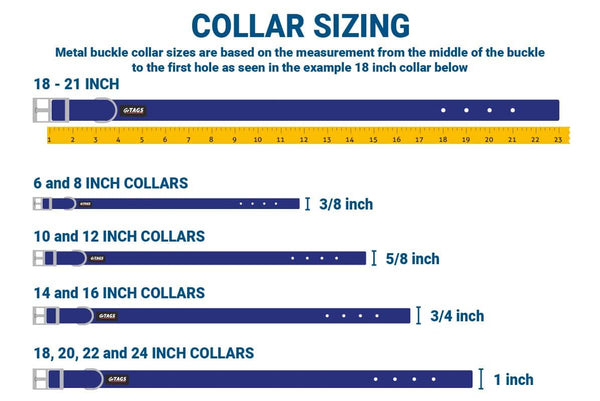 Dog Collar with Personalized Slide-On Nameplate
Your dog will stand out from the pack in this dog collar with nameplate. Customize by choosing from 5 collar colors and 8 nameplate colors, with name plate custom engraved with up to 4 lines of personalization for long-lasting ID. Eliminate the worry of your dog losing her identification with this secure ID that has the added benefit of being silent, unlike traditional hanging dog tags. This metal buckle collar was made to be durable and comfortable with strong but soft premium nylon webbing. And to ensure your dog's collar stays spotless, it's machine washable for hassle-free cleaning.
Pairs with our matching Dog Leash.
Features and Benefits
Made with durable but soft premium nylon that is machine washable for easy cleaning.
Choose from 5 collar collars and 8 nameplate colors to suit your dog's paw-some character.
Secure slide-on nameplate, that will NOT fall off, engraved with up to 4 lines of custom text.
ID that's completely silent, unlike hanging dog tags.
Stainless steel buckle and nickel plated steel D-ring for attaching leash.
Not recommended for tie out use.
Collar Sizing
To get an accurately sized collar to fit your dog, measure the center of their neck with a cloth tape measure or piece of string, a few inches down from their head. Pull the tape/string snug, but not tight. If you used a piece of string, measure it with a rigid ruler afterwards. Our metal buckle dog collars each have 4 sizing holes and are sized from the first hole to the last; the first hole is the smallest the collar will adjust down to, and the remaining holes allow the collar to widen for a comfort fit.
| Size | Neck | Width |
| --- | --- | --- |
| 6 - 7.75 inches | 6 - 7.75 inches | 3/8 inch |
| 8 - 9.75 inches | 8 - 9.75 inches | 3/8 inch |
| 10 - 12.25 inches | 10 - 12.25 inches | 5/8 inch |
| 12 - 14.25 inches | 12 - 14.25 inches | 5/8 inch |
| 14 - 16.25 inches | 14 - 16.25 inches | 3/4 inch |
| 16 - 18.25 inches | 16 - 18.25 inches | 3/4 inch |
| 18 - 21 inches | 18 - 21 inches | 1 inch |
| 20 - 23 inches | 20 - 23 inches | 1 inch |
| 22 - 25 inches | 22 - 25 inches | 1 inch |
| 24 - 27 inches | 24 - 27 inches | 1 inch |
Customer Reviews
Write a Review
Ask a Question
08/07/2023
Patricia F.

United States
Hard Sizing
I love every about it except it's too small. The other one I ordered was too big so I tried going down a size. I will have reorder.
01/18/2023
Suzanne T.

United States
Dog collar and name plate
I was very pleased! Just
01/18/2023
Samuel H.

United States
2nd one
She outgrew first one so I ordered this one. Got Exactly what I ordered and expected. Pink collar w pink tag.
01/02/2023
Laura S.

United States
Fantastic customer service - Highly recommended!
I was attempting purchase a dog collar as a surprise Christmas gift for an elderly friend whose dog frequently wanders off, but since this was a surprise, I couldn't measure his dog's neck. The staff at GoTags was awesome and helped me obtain the collar in time for Christmas!
09/12/2022
Mallory P.

United States
Loved them
I really love the collars. I have an extremely large one for my Great Dane, and a smaller one for my Pittie mix. They look great on them and have held up to their rough housing so far.
Close (esc)
LABOR DAY SALE
In celebration of our pets working hard to keep us sane this past year
GoTags is offering 15% off sitewide!
Discount will be automatically applied at checkout
Age verification
By clicking enter you are verifying that you are old enough to consume alcohol.