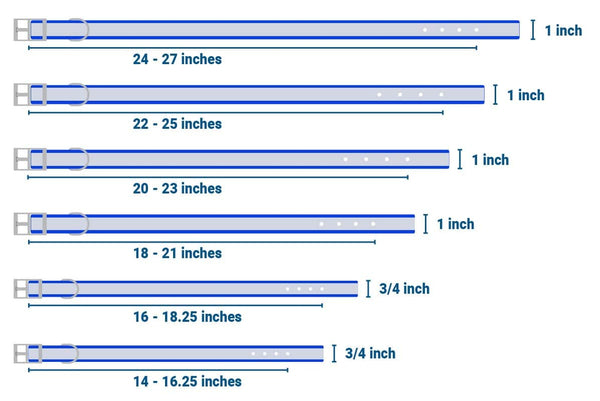 Reflective Waterproof Dog Collar with Personalized Slide-On Nameplate
Your dog will stand out in this waterproof dog collar that's both reflective and "no stink". Made of extra durable BioThane coated webbing, this comfortable metal buckle collar is impervious to dirt, moisture and odors, and can be easily rinsed clean in seconds. Choose from 3 collar colors, each includes a custom engraved, secure, stainless steel slide-on nameplate that accommodates up to 4 lines of personalization for long-lasting ID that has the added benefit of being silent. Eliminate the worry of your dog losing their identification, and let her have big adventures as this hardworking collar can take it. Far from ordinary, this collar is paw-sonal.
Features and Benefits:
Highly reflective collar helps keep your dog visible and safe in low-light.
Waterproof and reflective collar keeps your pup safe and visible in low-light areas.
Engraved stainless steel nameplate that will NOT fall off.
ID that's completely silent, unlike hanging dog tags.
Made of durable BioThane coated webbing that's resistant to odors, dirt, moisture and oils, and can be easily rinsed clean.
Stainless steel buckle and nickel plated steel D-ring for attaching leash or tag.
Available in 6 sizes and 3 collar color options.
Collar Sizing:
To get an accurately sized collar to fit your dog, measure the center of their neck with a cloth tape measure or piece of string, a few inches down from their head. Pull the tape/string snug, but not tight. If you used a piece of string, measure it with a rigid ruler afterwards. Our metal buckle dog collars each have 4 sizing holes and are sized from the first hole to the last; the first hole is the smallest the collar will adjust down to, and the remaining holes allow the collar to widen for a comfort fit.
| Size | Neck | Width |
| --- | --- | --- |
| 14 - 16.25 inches | 14 - 16.25 inches | 3/4 inch |
| 16 - 18.25 inches | 16 - 18.25 inches | 3/4 inch |
| 18 - 21 inches | 18 - 21 inches | 1 inch |
| 20 - 23 inches | 20 - 23 inches | 1 inch |
| 22 - 25 inches | 22 - 25 inches | 1 inch |
| 24 - 27 inches | 24 - 27 inches | 1 inch |
Customer Reviews
Write a Review
Ask a Question
07/20/2022
Robert B.

United States
Good size and durable
This collar is great. The only challenge I see is how the tag forces the collar inward and does not lay flat.
04/20/2022
Missie R.

United States
So far you can't beat it
Great collar and name tag so far, time will tell with longevity. I like the fact that we don't have to worry about losing the actual name plate.
04/22/2021
Trina

United States
Best collar for active dogs!
I purchased these collars for my Laborador and Heeler because of their very active working lifestyle. After having replaced hang tags multiple times, I found these collars with the riveted nameplates. My boys have been wearing these for several months now and they still look brand new! The no-stink waterproof collar is perfect for my pups who swim in the lake weekly and unfortunately like to roll in the pasture perfume on occasion. I love the reflective feature so I can spot the two of them running down our long drive to greet me when I come home in the dark. The communication I received from the GoTags customer service was exemplary when I was trying to get the right fit. I will recommend these to all my dog friends!
02/26/2021
Casey T.

United States
Almost Perfect
I really like this collar overall. My only issue is the nameplate is essentially flat, not curved for the dogs neck. It looks a little strange and doesn't sit on my dogs neck like I'd prefer. It probably just a visual thing...the dog doesn't seem to mind.
12/28/2020
Sara R.

United States
Great!
Very well made and everything is printed correctly! Would recommend