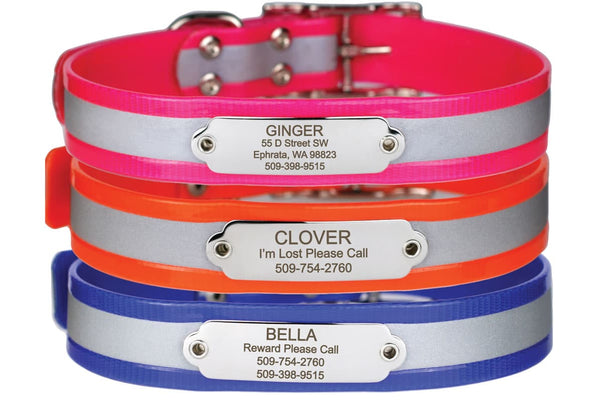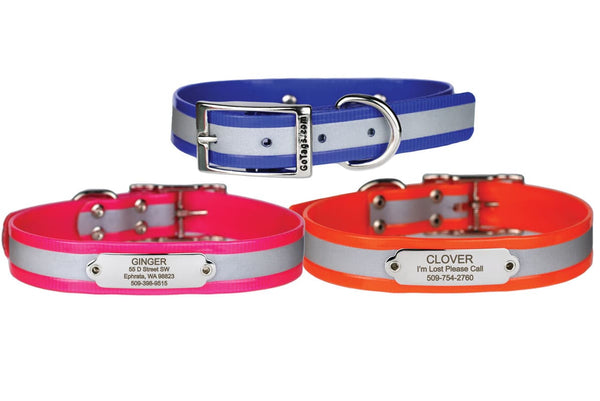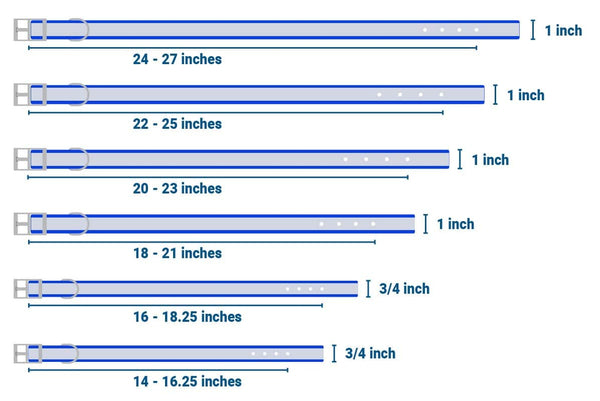 Reflective Waterproof Dog Collars with Nameplate, Riveted-on
Your dog will stand out from the pack in this waterproof dog collar that's both reflective and "no stink". Made of extra durable BioThane coated webbing, this comfortable metal buckle collar is impervious to dirt, moisture and odors, and can be easily rinsed clean in seconds. Choose from 3 collar colors, each includes a custom engraved, secure, stainless steel rivet-on nameplate that accommodates up to 4 lines of personalization for long-lasting ID that has the added benefit of being silent. Eliminate the worry of your dog losing their identification, and let her have big adventures as this hardworking collar can take it. Far from ordinary, this collar is paw-sonal.
Features and Benefits:
Reflective dog collar keeps your pup safe and visible in low-light areas.
Waterproof collar made of durable BioThane coated webbing that's resistant to odors, dirt, moisture and oils, and can be easily rinsed clean.
Engraved stainless steel nameplate that will NOT fall off.
ID that's completely silent, unlike hanging dog tags.
Stainless steel buckle and nickel plated D-ring for attaching leash or tag.
Available in 6 sizes and 3 collar color options.
Collar Sizing:
To get an accurately sized collar to fit your dog, measure the center of their neck with a cloth tape measure or piece of string, a few inches down from their head. Pull the tape/string snug, but not tight. If you used a piece of string, measure it with a rigid ruler afterwards. Our metal buckle dog collars each have 4 sizing holes and are sized from the first hole to the last; the first hole is the smallest the collar will adjust down to, and the remaining holes allow the collar to widen for a comfort fit.
| Size | Neck | Width |
| --- | --- | --- |
| 14 - 16.25 inches | 14 - 16.25 inches | 3/4 inch |
| 16 - 18.25 inches | 16 - 18.25 inches | 3/4 inch |
| 18 - 21 inches | 18 - 21 inches | 1 inch |
| 20 - 23 inches | 20 - 23 inches | 1 inch |
| 22 - 25 inches | 22 - 25 inches | 1 inch |
| 24 - 27 inches | 24 - 27 inches | 1 inch |
Customer Reviews
Write a Review
Ask a Question
03/14/2023
Kari S.

United States
Waterproof Collar & Riveted Name Plate
We bought this for our previous dog and loved it so much we bought matching for our new pups. The only thing I wish was they had more color options! A purple or teal would make a great addition. They wash great in the bath with the animal, they don't smell - ever. On our previous dog we bought one too large and were able to punch it and make it smaller and cut off the excess. It's a great investment and at this point, I don't see us using another collar ever.
11/25/2022
Linda N.

United States
Reflective Waterproof Dog Collars with Nameplate
I love it. It is beautiful and is a forever collar!
11/10/2022
Susan B.

United States
Good dog collar
I bought one reflective biothane dog collar of each color. I have 3 black Labs who swim and smell. Pros-collars arrived quickly and correct, buckles seem sturdy, collars do not stay wet and dirt is easy to wipe off (rather than soaking and scrubbing their old cloth collars). Cons-this biothane material is not as flexible as I thought (although dogs don't seem to mind) and the rivet nameplate does create a stiff edge. Overall -- bright, easy to keep clean and no ID tags jingling.
02/23/2022
Irene P.

United States
Pretty & Safe in Pink
Great quality waterproof collar for my Coco Snow 2.5 yr old high energy GSP that has been known to bust through the invisible fence when chasing as squirrel. Good to have info on a stay on collar. Thanks for the quality products and quick service!
01/20/2022
David S.

United States
Excellent product and service!
I purchased a Go Tags collar for my English Springer Spaniel over four years ago. The collar has been subjected to all kinds of dog related ruff-and-tumble challenges. Cold, hot, wet, muddy, wrestling, running through brush you name it and the collar remained serviceable. Sure the reflective strip wore off in a few areas and the engraved plate was pretty well scratched up, but the plate was still easily readable and collar was still solid and in good shape. My boy needed a couple more inches so we replaced his collar with the same one just one size bigger and if needed I will replace it with another GoTags collar!