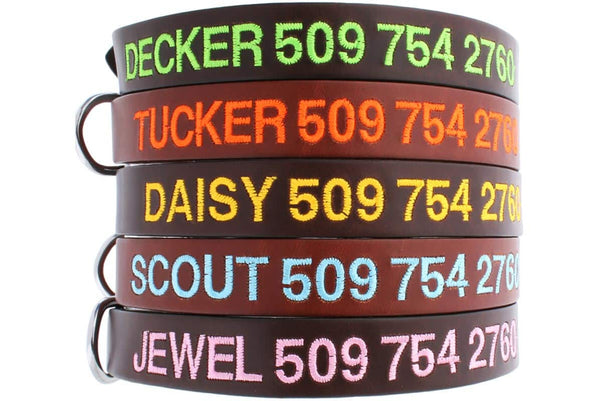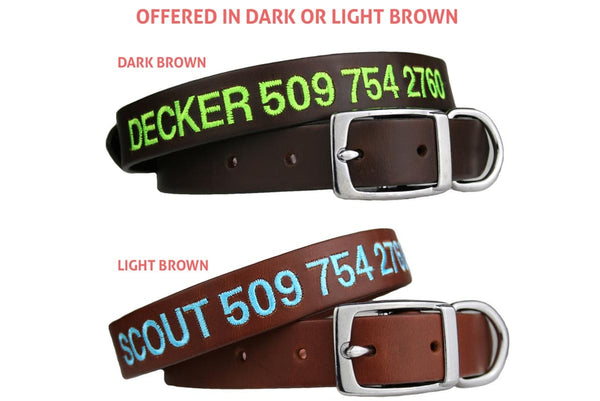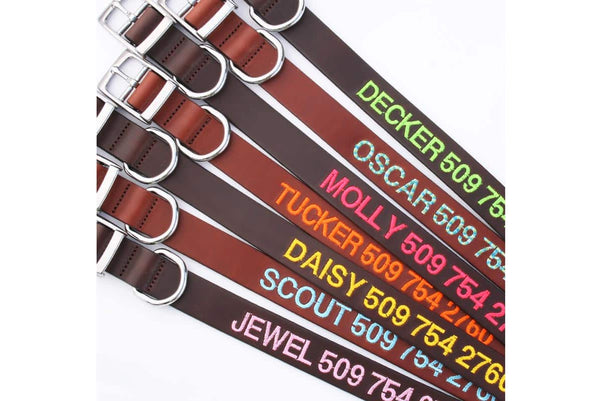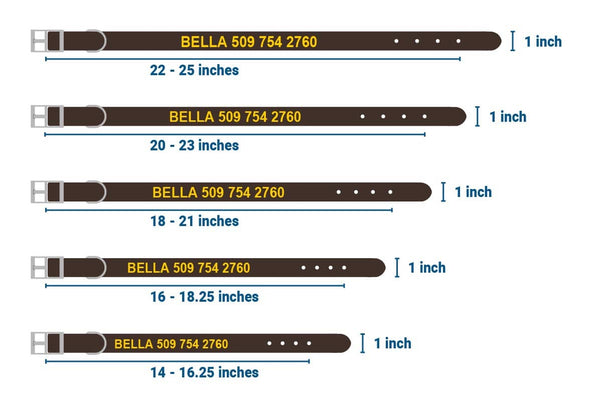 Personalized Leather Dog Collar Embroidered
Your dog will stand out from the pack in this personalized leather dog collar. Crafted with durability and comfort in mind, this collar is made is made to last with full-grain, conditioned Italian leather. Customize with your dog's name and phone number for long-lasting identification, permanently embroidered with up to 25 characters (including spaces) in one of 15 thread colors. This metal buckle collar is available in both light brown and dark brown leather, with all edges dyed and burnished, and features a non-corrosive D-ring for leash and tag. Far from ordinary, this collar is paw-sonal.
Features and Benefits:
Made of full-grain Italian leather that has been conditioned for a soft, yet durable finish.
Embroidered with your dog's name and phone number (up to 25 characters including spaces), to ensure she always has ID.
Silent identification that won't fall off, scratch, or fade.
Choose from 15 thread colors to match your dog's paw-some character.
Available in 5 sizes and 2 shades of leather: dark brown and light brown.
Traditional stainless steel buckle, and a non-corrosive D-ring for a leash and tag attachment.
Not recommended for tie out use.
Collar Sizing:
To get an accurately sized collar to fit your dog, measure the center of their neck with a cloth tape measure or piece of string, a few inches down from their head. Pull the tape/string snug, but not tight. If you used a piece of string, measure it with a rigid ruler afterwards. Our metal buckle dog collars each have 4 sizing holes and are sized from the first hole to the last; the first hole is the smallest the collar will adjust down to, and the remaining holes allow the collar to widen for a comfort fit.
| Size | Neck | Width |
| --- | --- | --- |
| 14 - 16.25 inches | 14 - 16.25 inches | 1 inch |
| 16 - 18.25 inches | 16 - 18.25 inches | 1 inch |
| 18 - 21 inches | 18 - 21 inches | 1 inch |
| 20 - 23 inches | 20 - 23 inches | 1 inch |
| 22 - 25 inches | 22 - 25 inches | 1 inch |
Customer Reviews
Write a Review
Ask a Question
07/10/2023
Nedra C.

United States
Beautiful and useful
We are very pleased with the GoTags Embroidered leather collar. It seems comfortable for the dog and is lovely to look at. It is a comfort to know she will be identified in an emergency. It did seem to stretch a bit, so it became too large, but it was easy to make a new hole with an awl. The leather is strong and flexible. We highly recommend it.
05/16/2023
Stacy P.

United States
Collar
I love the collar for our dog who has a tendency to go! The jingling rags were so aggravating and he had been lost with no tags this collar fixed that!
10/30/2022
Lisa S.

United States
My labs collars
This is my third purchase from GoTags. I really like the leather collars and the personalization. The quality of the leather is nice and my boys (aka Bruno and Sawyer) look so handsome. I will continue to buy from GoTags.
08/03/2022
Shellie G.

United States
Beautiful
I LOVE Liberty's new collar! It's so pretty in her and easy to read
01/30/2022
Sherri I.

United States
Great Quality
Great collar with excellent quality for my destructive Siberian Husky.
Close (esc)
LABOR DAY SALE
In celebration of our pets working hard to keep us sane this past year
GoTags is offering 15% off sitewide!
Discount will be automatically applied at checkout
Age verification
By clicking enter you are verifying that you are old enough to consume alcohol.