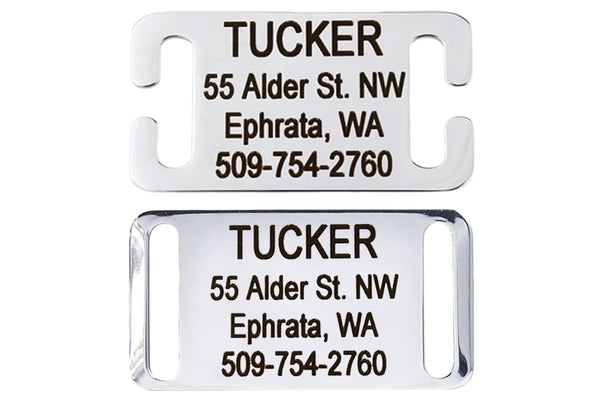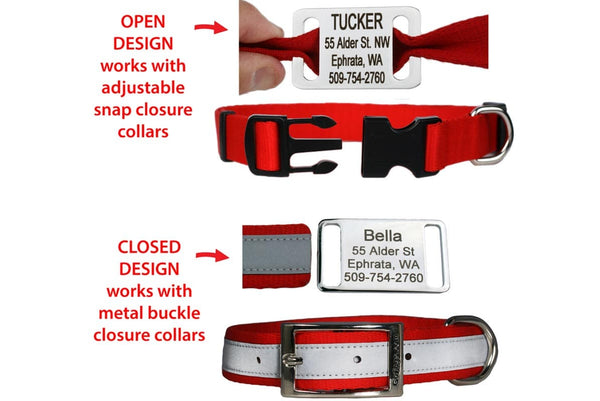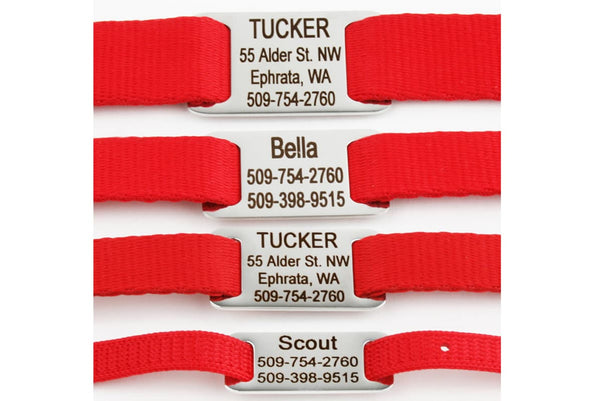 Slide-On Dog Tags, Stainless Steel
These slide-on collar pet tags in durable stainless steel are custom engraved with up to 4 lines of personalized text, room for all your dog or cat's important ID. The permanent laser engraving is clear and attractive on a polished nameplate tag. Silent and secure, these tags slide onto your dog's collar, and will NOT fall off nor jingle like traditional hanging pet tags. The slide-on tags have a gentle curve for comfort.
Review all of the product images to select the appropriate tag style for your pet's collar type: Open Design fits adjustable snap closure collars; Closed Design fits belt buckle closure collars.
Choose the size based on your collar type and collar size:
Open Design available in 4 Sizes:

X-Small: fits 3/8 in wide nylon collars
Small: fits 5/8 in nylon collars
Medium: fits 3/4 in wide nylon collars
Large: fits 1 in wide nylon collars

Closed Design available in 3 Sizes:

Small: fits 3/8 in wide nylon collars
Medium: fits 5/8 in & 3/4 in wide nylon collars
Large: fits 1 in wide nylon collars
Customer Reviews
Write a Review
Ask a Question
12/02/2023
Lynn E.

United States
Not bad, solid
I would say maybe 3-1/2 star. I have had better tags for my other dogs. This one is already scratched up and its not that old. My dog does not wear his collar all the time, only when we leave the house. I am disappointed on how easily this tag has scratched because when I received it, it looked and felt really nice. My other dogs have similar tags and they are at least 8 years old and they look better. But it's still not bad for the price. It's a solid tage
11/18/2023
DAVID J.

United States
Great Invention!
Love this dog tag! I now know that my dogs will be identified if they ever escape my house AND i dont have to listen to the jingling of other dog tags. Thank you for this!
11/14/2023
Michelle H.

United States
Too big for small collar
I do like the purchase and how fast it came. It was however too big for my cats collar. It keeps coming off.
11/10/2023
Sandra D.

United States
Slide on dog tags
Perfect! It was made very well, I'm very happy with the results. I would buy this product again. I will recommend it to anyone!
11/07/2023
Hilary D.

United States
Great little tag
Just as described. Small piece of sturdy metal unobtrusively does its job without any dangling or jingling. Our dog doesn't even know it's there. Minimalist ID tags for the win.