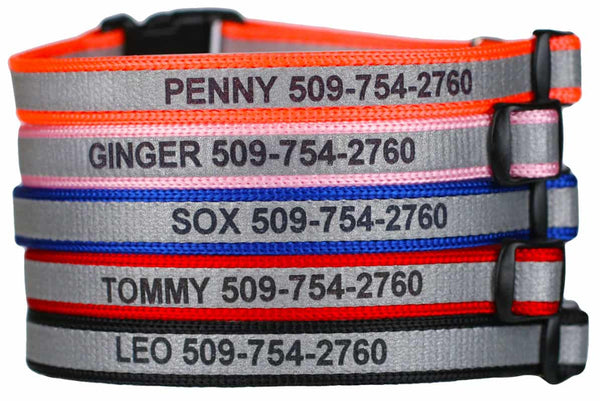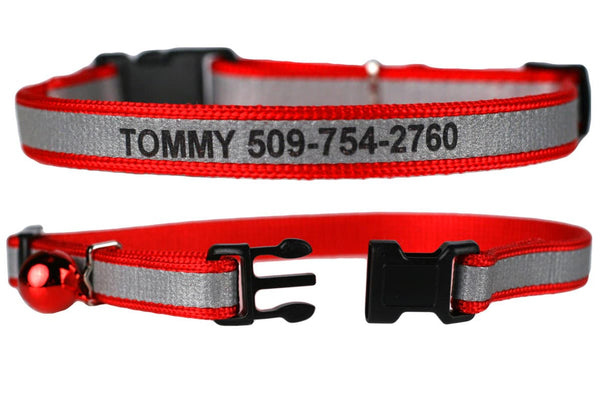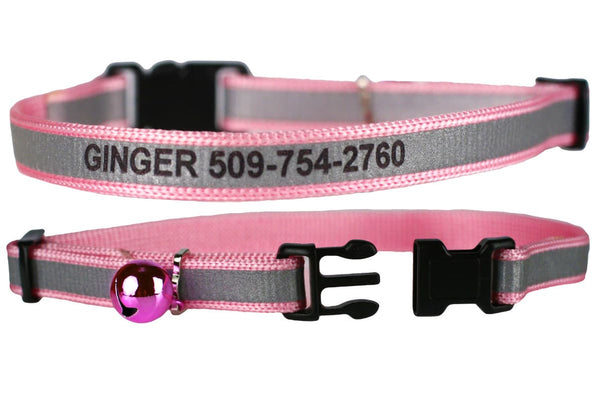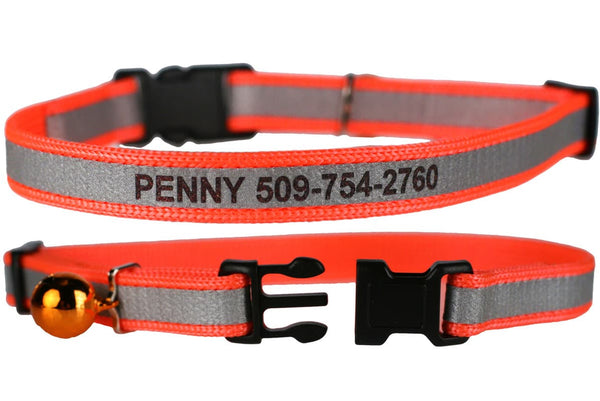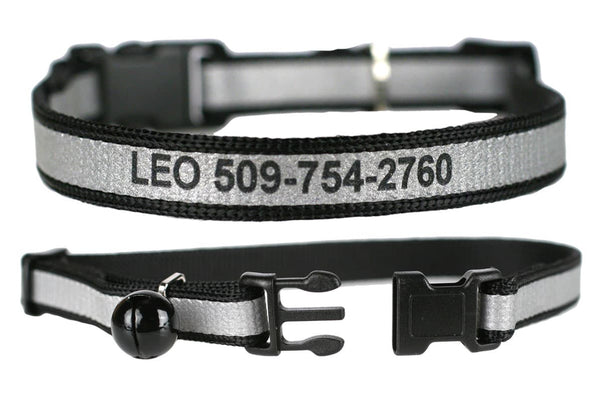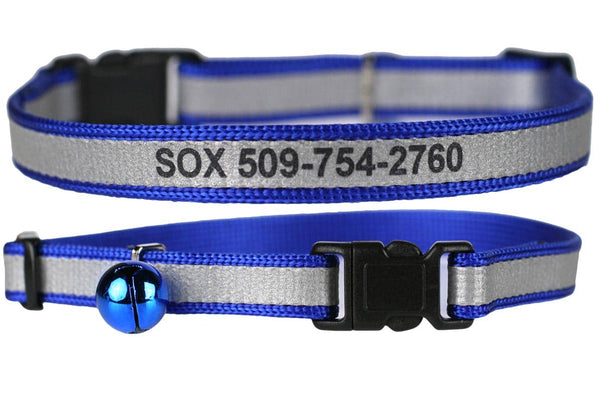 Personalized Engraved Reflective Cat Collar with Breakaway Buckle
Your cat will stand out from the crowd in their very own personalized, breakaway reflective cat collar. Permanently custom engraved with your cat's name and phone number for long-lasting identification with up to 21 characters (including spaces). Designed with safety and comfort in mind, this collar is made with durable but soft, non-snagging nylon webbing and features a highly reflective band to help maintain visibility in low-light settings, a breakaway safety buckle designed to release should the collar get caught, and a removable wildlife protection bell. Far from ordinary this collar is purr-fect!
Features and Benefits:
The highly reflective strip runs the length of the collar to keep your cat safe and visible in low-light.
Engraved with your cat's name and phone number (up to 21 characters including spaces) to ensure she always has ID.
The durable but soft snag-proof nylon material and breakaway safety buckle are designed to keep your cat safe in case the collar gets caught.
Collar comes in 5 color options and can adjust from 8 - 12 inches for the purr-fect fit. Collar 3/8 in wide.
Removable wildlife protection bell included.
Customer Reviews
Write a Review
Ask a Question
09/28/2023
Carol T.

United States
Cat collar
I love it. And so does Millie Jo. At first she tried to. Chew on it but she dose not any more.
09/15/2023
Adrienne K.

United States
Beautiful collars
All of the collars are simply awesome.
09/02/2023
Tom F.

United States
New thinner collar with great reflection
Great; reflection off subtle lights could save her life or the birds.
08/28/2023
Pat R.

United States
Good collar, helps you find your cat in the dark!
This is the only place I've found that makes personalized reflective collars. They are high quality and look great, I've ordered for both my dog and my cat. Ordering directly thru the company is worth it - the color selection was better than on Amazon, shipping was fast, and its a made-in-America company!I did have to replace my first cat collar after about 3 years because the printing wore off, but it's still the best one I've found.
08/17/2023
Weston R.

United States
Great collar
Love it, fits well
Close (esc)
LABOR DAY SALE
In celebration of our pets working hard to keep us sane this past year
GoTags is offering 15% off sitewide!
Discount will be automatically applied at checkout
Age verification
By clicking enter you are verifying that you are old enough to consume alcohol.