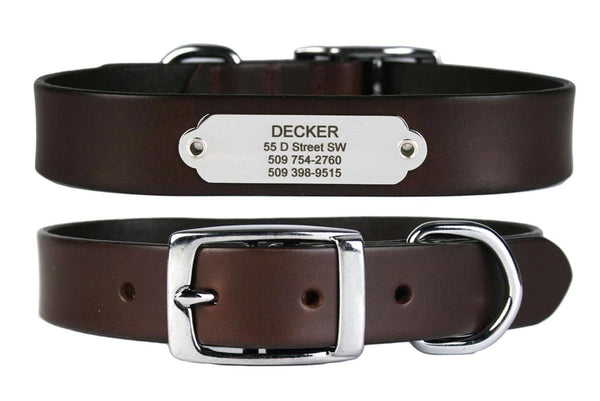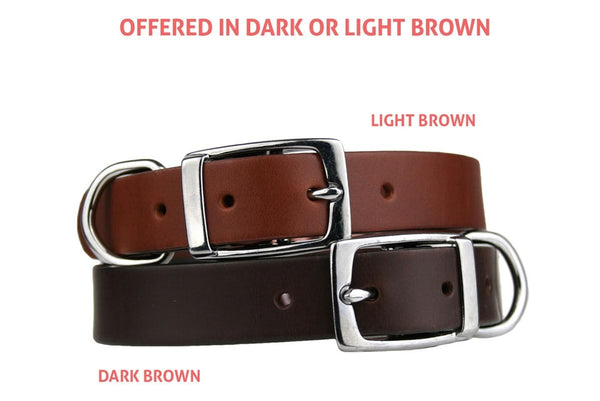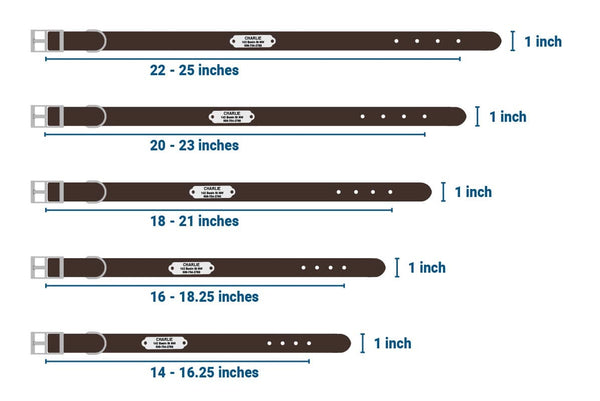 Leather Dog Collar with Stainless Steel Rivet-On Nameplate
Our personalized leather dog collar with nameplate, is crafted with durability and comfort in mind. This leather collar is made is made to last with full-grain, conditioned Italian leather, and a stainless steel rivet-on nameplate custom engraved with your dog's name and phone number for long-lasting identification. Eliminate the worry of your dog losing her identification with this secure ID that has the added benefit of being silent, unlike traditional hanging dog tags. This metal buckle collar is available in both light brown and dark brown leather, with all edges dyed and burnished, and features a non-corrosive D-ring for leash and tag.
Features and Benefits:
Made of full-grain Italian leather that has been conditioned for a soft, yet durable finish your dog will love.
Secure stainless steel nameplate, that will NOT fall off, engraved with up to 4 lines of custom text.
Silent ID, unlike hanging dog tags.
Available in 5 collar sizes and 2 shades of leather: dark brown and light brown.
Traditional stainless steel buckle, and a non-corrosive D-ring for leash and tag attachment.
Not recommended for tie out use.
Collar Sizing:
To get an accurately sized collar to fit your dog, measure the center of their neck with a cloth tape measure or piece of string, a few inches down from their head. Pull the tape/string snug, but not tight. If you used a piece of string, measure it with a rigid ruler afterwards. Our metal buckle dog collars each have 4 sizing holes and are sized from the first hole to the last; the first hole is the smallest the collar will adjust down to, and the remaining holes allow the collar to widen for a comfort fit.
| Size | Neck | Width |
| --- | --- | --- |
| 14 - 16.25 inches | 14 - 16.25 inches | 1 inch |
| 16 - 18.25 inches | 16 - 18.25 inches | 1 inch |
| 18 - 21 inches | 18 - 21 inches | 1 inch |
| 20 - 23 inches | 20 - 23 inches | 1 inch |
| 22 - 25 inches | 22 - 25 inches | 1 inch |
Customer Reviews
Write a Review
Ask a Question
09/25/2023
Laura K.

United States
Consistently Great Products
The perfect house warming gift for my best (human) friend. I knew from past orders that this would be just what she wanted.
09/21/2023
Linda S.

United States
Perfect
I love the leather dog collar with the personalized information on it. My girl got to big for her last one, so I just purchased her a new one. She looks proud of her new collar and she looks great with it on.
09/04/2023
Loni G.

United States
Great Collar
Good looking and as described .
07/13/2023
Matt P.

United States
great product
thank you Very nice collars and unbelievably fast shipping
02/16/2023
Mary F.

United States
Fast efficient service
Not only was the collar done quickly, the quality and tag is superior to ready made. I am very happy with the product and the service. Thank you Go Tags!
Close (esc)
LABOR DAY SALE
In celebration of our pets working hard to keep us sane this past year
GoTags is offering 15% off sitewide!
Discount will be automatically applied at checkout
Age verification
By clicking enter you are verifying that you are old enough to consume alcohol.