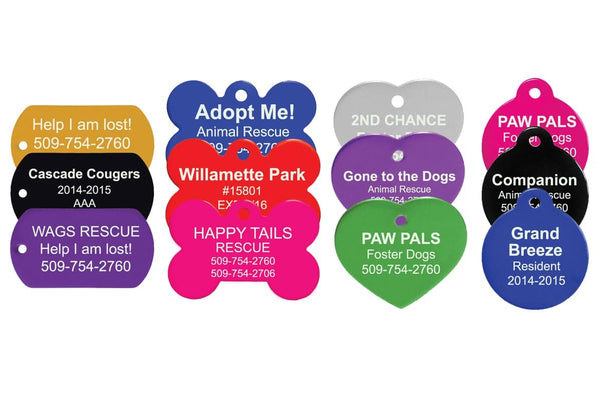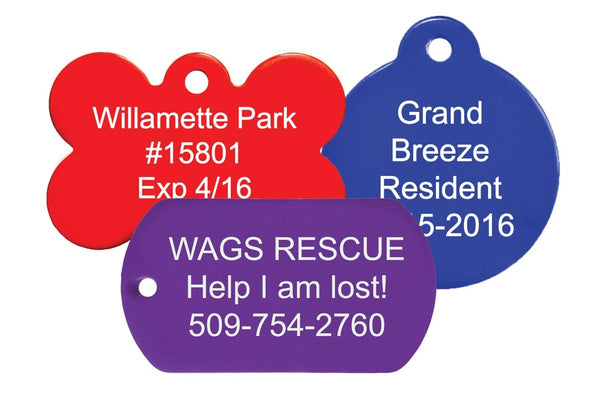 Custom Pet Tags - Volume Pricing
We provide custom dog tags for kennels, rescues, veterinarians, pet registries, resorts, condominium buildings, parks, walks, charities, and much more.
Minimum quantity for volume / wholesale pricing starts at 25 tags.
Available in several shapes and colors, all pet tags come with up to 4 lines of personalized ID or custom text and include split ring attachments. For personalization, the text can be the same or unique for each individual tag. If each tag in your order will be uniquely personalized please put "See Email" in the customization fields and send us an email at orders@gotags.com. A customer service representative will respond by email on how best to get us the information for the individualized tags.
Tags come with single side engraving. You may add personalization on the back-side of tags with up to 4 lines of text for .55 each (additional). To include backside engraving add the Backside Engraving Bulk Order product to your cart after placing your bulk order.
Customer Reviews
Write a Review
Ask a Question
08/27/2023
Susan E.

United States
Great quality!
The tags I ordered in bulk arrived in perfect condition. The detail was very nice and crisp and the pink heart tag is a great shade of pink. Will be re-ordering soon.
04/27/2023
Monika S.

United States
Perfect little addition for my business
The dog tags I ordered are perfect and were easy to customize and shipped quickly! Will be ordering them again when needed!
04/06/2023
Jessica R.

United States
Perfect for rescue dogs
These tags have led the way in getting foster dogs and adopted dogs back home… invaluable
04/04/2023
Lisa B.

United States
Swift Service Excellent Quality
I love my tags! They came out perfect and delivered quickly.
02/21/2023
Kira G.

United States
Love them!
The tags came quickly and were exactly as ordered. We are a small animal rescue organization and need to be selective with our funds. The tags are not flimsy and will last a long time for each of dogs. Will re-order when the next batch is needed!
Close (esc)
LABOR DAY SALE
In celebration of our pets working hard to keep us sane this past year
GoTags is offering 15% off sitewide!
Discount will be automatically applied at checkout
Age verification
By clicking enter you are verifying that you are old enough to consume alcohol.