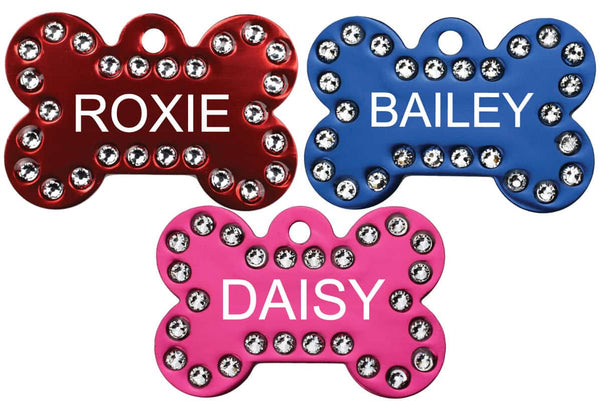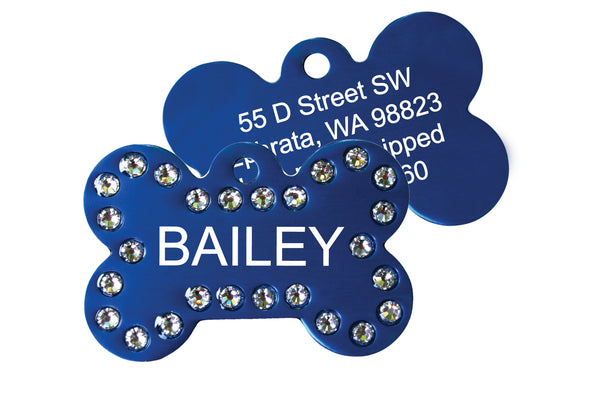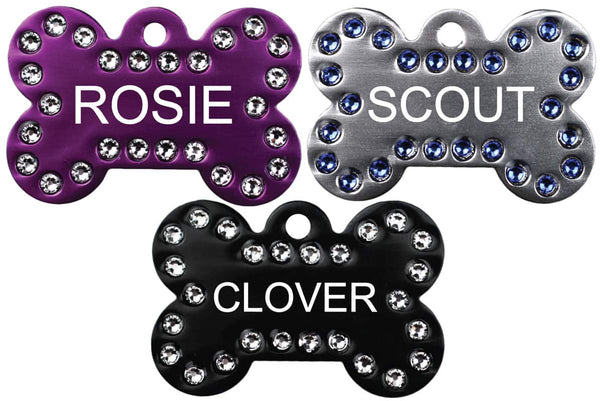 Bone Dog Tags with Swarovski Crystals
This classic bone shaped dog tag with Swarovski crystals add a little sparkle, color, and stylish bling to your dapper dog. Personalized with your pet's name on the crystal ringed front, and up to 4 lines of custom engraved ID on tag back. Lightweight aluminum ID tag in 6 vibrant color options.
Pair with our Dog Tag Clip for easy collar attachment.
Features and Benefits:
2 Sizes:

Regular: 1.6 x 1.1 in
Small: 1.3 x 0.9 in

26 Swarovski crystals sparkle on the front of this tag, available in 6 bright color options.
Made of anodized aluminum, this tag comes personalized with your dog's name on tag front, and up to 4 lines of engraved ID on tag back.
Anodization process adds strength, resilience and luster to each tag.
Split ring attachment included.
Customer Reviews
Write a Review
Ask a Question
10/26/2022
Mary A.

United States
Love My Go Tag!
10/22 I only purchase Go Tags when I needs new tag for my pup. They offer a multitude of designs and colors - anything you could want, you can find. And their prices are so reasonable. Great quality. I think it's so important for my dog to have an identity tag and I'm happy it can be stylish too!
09/02/2022
Barbara F.

United States
Super tag
Love the tag. Very pretty and light to wear.
06/10/2022
Chance I.

United States
BoneTastic
Got my tag quickly, love the way it looked my fur baby rocking a beautiful tag. We got the silver bone with pink crystals. Highly recommend.
05/30/2022
Lindsay C.

United States
Good but...
I loved these for my dog, but after about 2 weeks the vaccination tag on my dogs collar had scratched off some of the words.
05/27/2022
Luke G.

United Kingdom
Amazing
This was so nice to do because I bought this for a friend in a different country and he got it in a very timely manner, amazing job guys I will be ordering again.
Close (esc)
LABOR DAY SALE
In celebration of our pets working hard to keep us sane this past year
GoTags is offering 15% off sitewide!
Discount will be automatically applied at checkout
Age verification
By clicking enter you are verifying that you are old enough to consume alcohol.