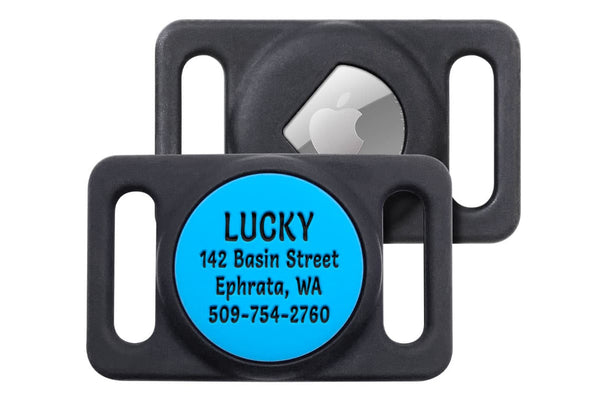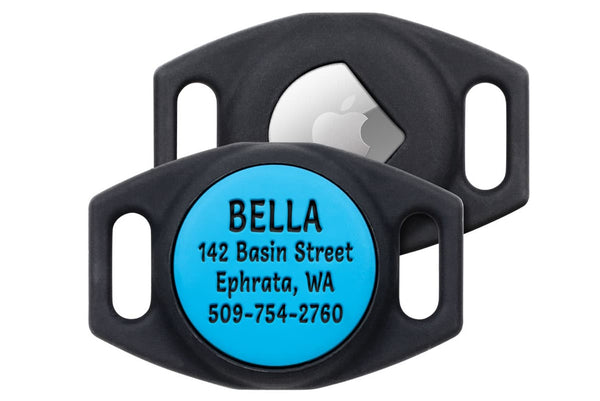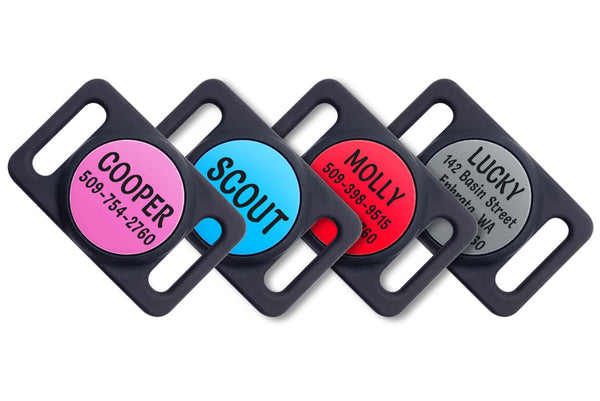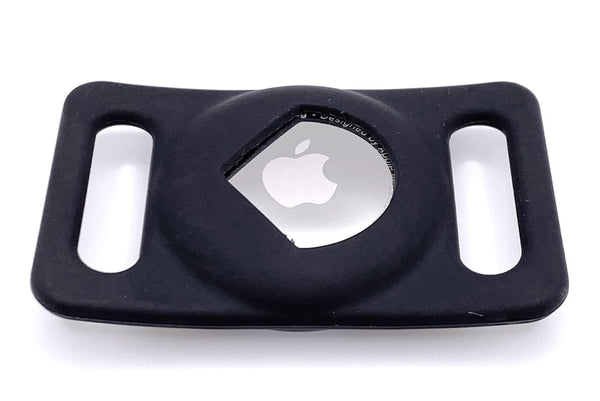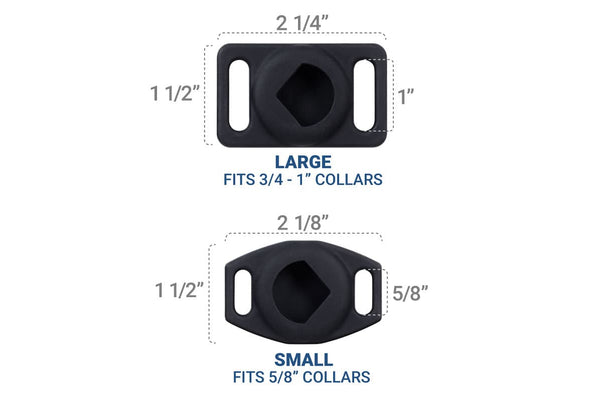 AirTag Dog Collar Holder, Personalized
Apple AirTag Holder for pet collars, personalized with your dog or cat's ID to help get them home safely. The custom engraved silicone AirTag holder securely attaches an Apple AirTag to your pet's collar without worry it will fall out, while protecting the Air Tag from scratches and wear. The personalized silicone case keeps your dog or cat safe in the event someone finds them, or the tracking AirTag battery drains. The personalized dog tag has the added advantage of being silent unlike traditional dog tags. Available in 2 sizes, each in 4 colors: Blue, Red, Pink, and Gray.
Size SMALL case compatible with collars 5/8 inch wide.
Size LARGE case compatible collars 3/4 to 1 inch wide.
Pair with our Dog Collars or Cat Collars.
Features and Benefits:
Personalized with your dog or cat's ID to help get them home safely should the AirTag battery drain.
Secures your tracking Apple AirTag to your pet's collar without worrying if it will fall out.
Use with your existing dog collar or cat collar.
Personalized AirTag holder only. Does not include Apple Air Tag.
Customer Reviews
Write a Review
Ask a Question
11/09/2023
Wendy F.

United States
We Love them!!
We bought the little dog collar holder. I wasn't sure if they would be too big for our two little dogs, 11lbs and 14lbs but they have worked out great.
10/31/2023
Beth A.

United States
Air Tag Holder
Bought one for each of my two dogs since we just moved and they've attempted to escape and learn about their new neighborhood! Only one has an AirTag right now but they are a nice product and a little insurance in case they escape again! Happy with my purchase!
10/19/2023
James C.

United States
Soft supple and very stretchy
This AirTag holder will stretch over plastic or metal buckles on any size collar so no worries if it will fit what you have or on a new collar. It is too big for the narrow size collars and looks sloppy but it fits the 3/4 inch collars very well and looks good too.
10/09/2023
Michelle P.

United States
Amazing Air Tag/ID holder
I absolutely LOVE this combo Name Tag/Air Tag holder! Very impressed with the quality of it and it fits perfectly on the dogs collar. Will definitely purchase more for our other dogs!
10/04/2023
Stuart B.

United Kingdom
Excellent Product
Nicely made, wording is clear and embossed, not just printed on, so won't wear off with use. They fit the collars really well. They arrived in the UK about 2 weeks before I expected them to.