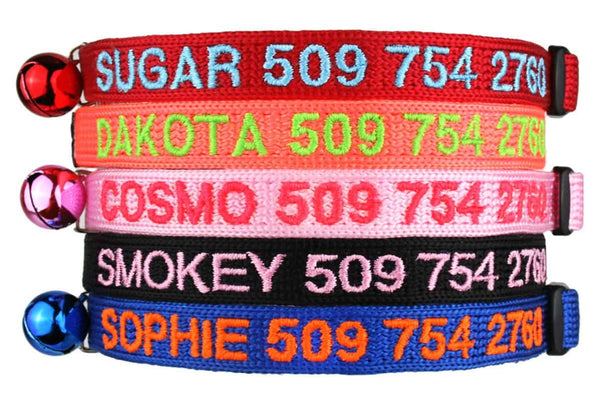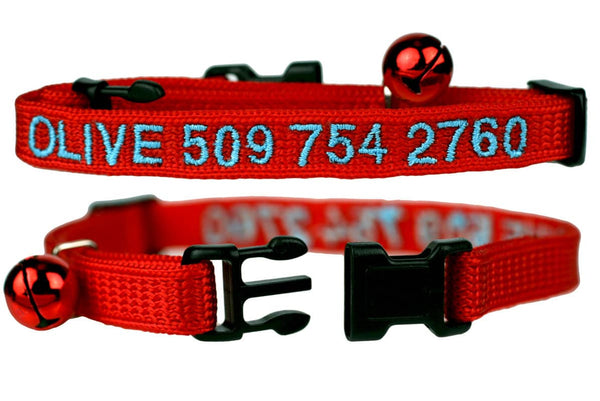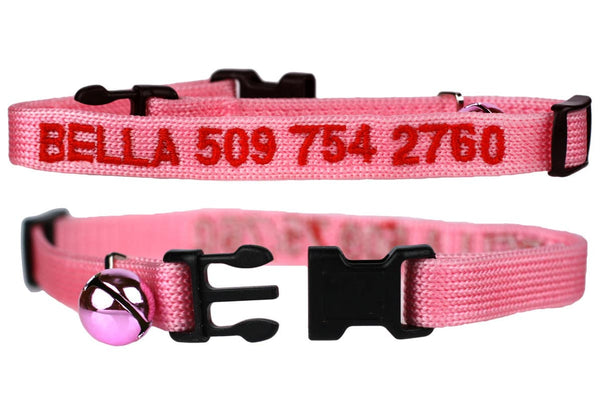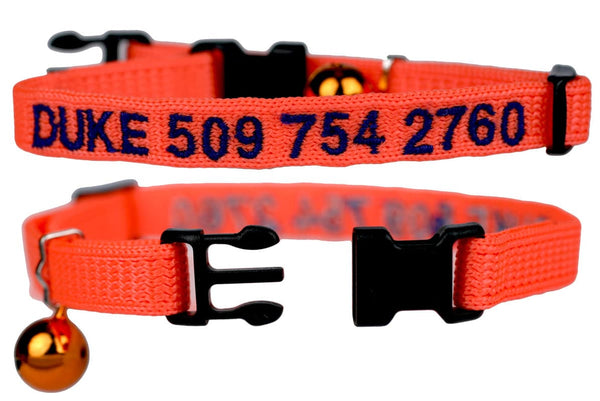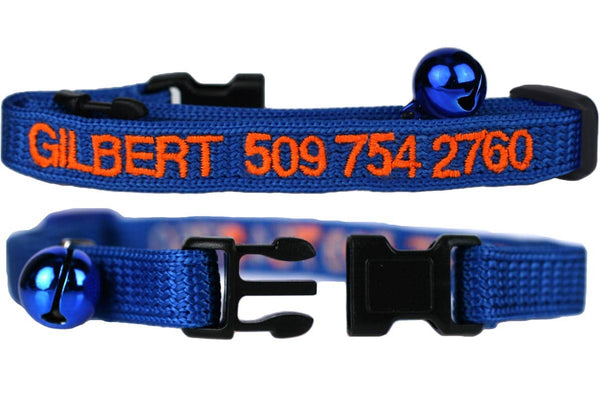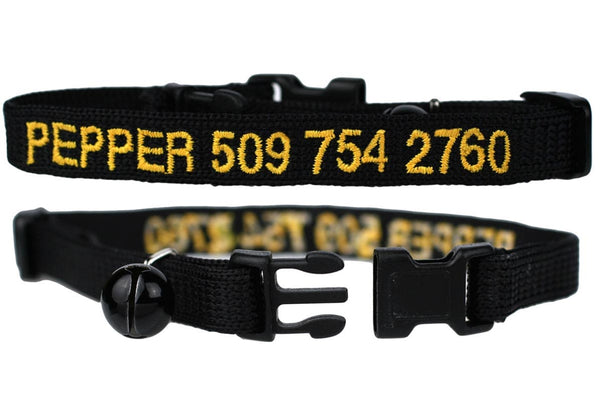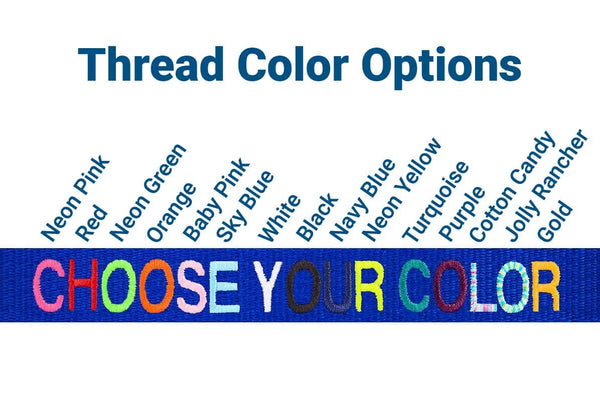 Personalized Embroidered Cat Collar with Breakaway Buckle
Your cat will stand out from the crowd in their very own personalized breakaway cat collar. Designed with safety and comfort in mind, the collar is made with durable but soft, non-snagging nylon webbing, and features a breakaway safety buckle designed to release should the collar get caught, so your cat can safely explore the outdoors or the living room without snagging on branches and other hazards. Customization means you can choose from 5 collar colors and one of 15 thread colors to permanently embroider your kitten's name and phone number (up to 21 characters) for identification. And to ensure your cat's ID stays spotless, it's machine washable for hassle-free cleaning. Far from ordinary this collar is purr-fect!
Features and Benefits:
Durable but soft snag-roof nylon material and breakaway safety buckle, designed to keep your cat safe in case their collar gets caught.
Embroider up to 21 characters (including spaces) with your cat's name and phone number, to ensure she always has ID.
Choose one of 15 thread colors to suit your cat's paw-some character.
Machine washable, the collar comes in 5 color options and can adjust from 8 - 12 inches for the purr-fect fit. Collar 3/8 in wide.
Removable wildlife protection bell included.
Customer Reviews
Write a Review
Ask a Question
09/27/2023
Tina M.

United States
Have ordered many of these
I have always had cats and recently acquired 2 chihuahuas. My latest cat is on his second one (first one was over 7 years old) and my two little female chi's look so cute in their's. They are perfect because they have their phone number but they don't have to deal with hanging tags.
08/25/2023
Paula O.

United States
Perfect
Love getting the collars embroidered with name and phone number, they are beautiful and with the best breakaway buckle!
08/22/2023
PATRICIA C.

United States
Best collar so far
Adopted tiny dog that collars didn't fit, found the cat extra narrow with a bell. He seems to enjoy having on, wants it back on after bath. Colors are vibrant and stand out, stitching done well without alot of extra weight on collar. Will re-order if need in future. Very pleased.
08/08/2023
Jeff M.

United States
Collar review
Very high quality. The are great!
08/03/2023
Lori O.

United States
Great collar for Wandering Cat
Charlie roams the neighborhood and folks say it's easy to read and call. I recommend it highly.
Close (esc)
LABOR DAY SALE
In celebration of our pets working hard to keep us sane this past year
GoTags is offering 15% off sitewide!
Discount will be automatically applied at checkout
Age verification
By clicking enter you are verifying that you are old enough to consume alcohol.