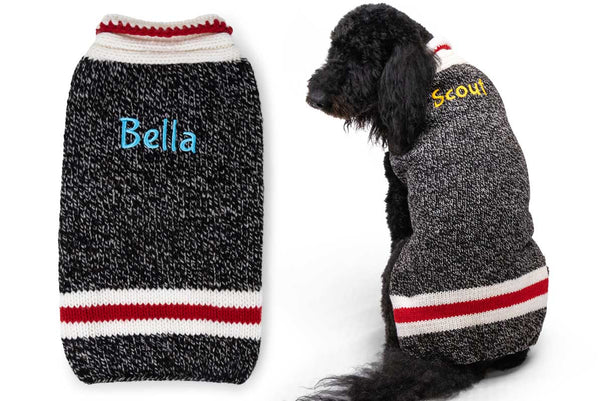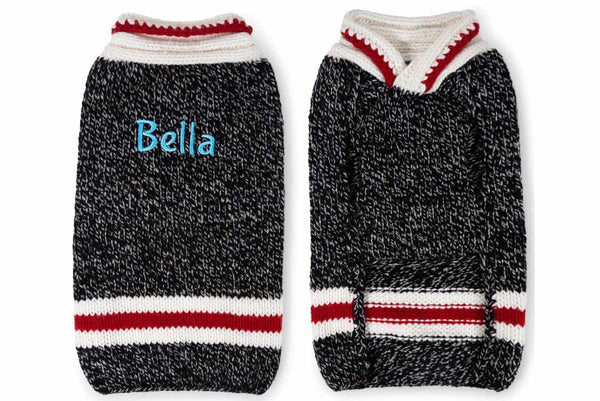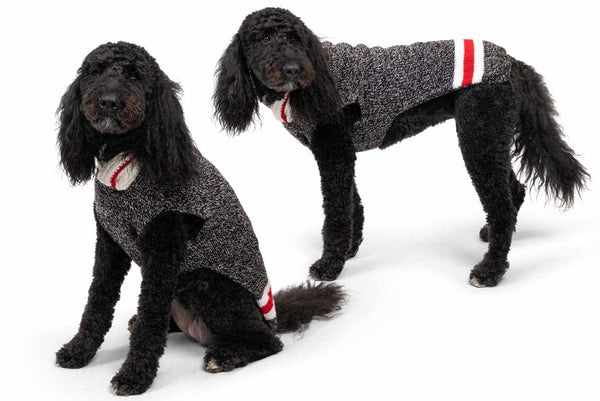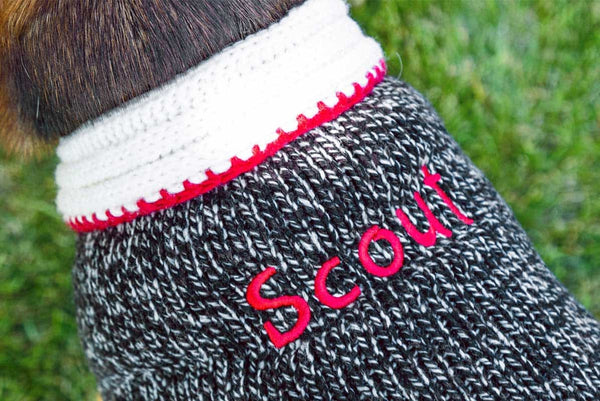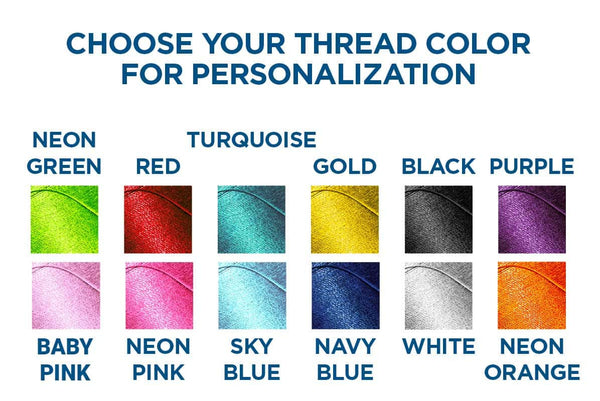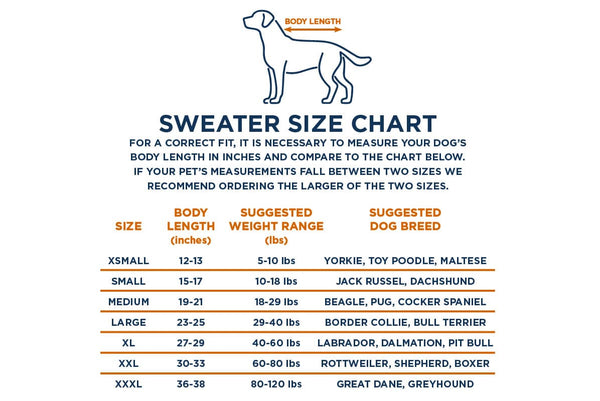 Black Wool Dog Sweater, Personalized
Your dog will enjoy winter's colder temps in this classic knitted wool dog sweater with turned-over shawl collar. Made from soft wool this two-tone sweater with ribbed neck is trimmed in white with red stripes and comes personalized with your pup's name custom embroidered to make it uniquely theirs. This updated style combines iconic design with a personalized touch. A beautiful garment with excellent functionality as wool is insulating and warming when its cold, and odor resistant while effectively wicking away moisture. Hand-knit with genuine workmanship by Andean artisans with 100% natural, non-allergenic, organic wool sourced from small farms with Fair Trade guidelines. Made with only natural dyes from plants and fruits, no harsh chemicals or artificial colors.
Please measure your dog properly before purchasing. Refer to size chart. Sizing recommendations per breed are only suggestions, since no two dogs are exactly alike. When in doubt, choose the larger size.
Hand wash in cold water. Do not put sweater in the dryer, lay flat to dry. Sweater may also be dry cleaned.
Features and Benefits:
Iconic style, custom embroidered for a personalized touch in one of 12 thread colors.
Sweater made from 100% wool.
Durable yet super soft to the touch.
Warming when it's cold.
Odor resistant while effectively wicking away moisture.
Sweater Sizing:
| Size | Body Length (inches) | Suggested Weight Range (lbs) | Suggested Dog Breed |
| --- | --- | --- | --- |
| XSMALL | 10-13 | 5-10 lbs | Yorkie, Toy Poodle, Maltese |
| SMALL | 15-17 | 10-18 lbs | Jack Russel, Dachshund |
| MEDIUM | 19-21 | 18-29 lbs | Beagle, Pug, Cocker Spaniel |
| LARGE | 23-25 | 29-40 lbs | Border Collie, Bull Terrier |
| XL | 27-29 | 40-60 lbs | Labrador, Dalmation, Pit Bull |
| XXL | 30-33 | 60-80 lbs | Rottweiler, Shepherd, Boxer |
| XXXL | 36-38 | 80-120 lbs | Great Dane, Greyhound |