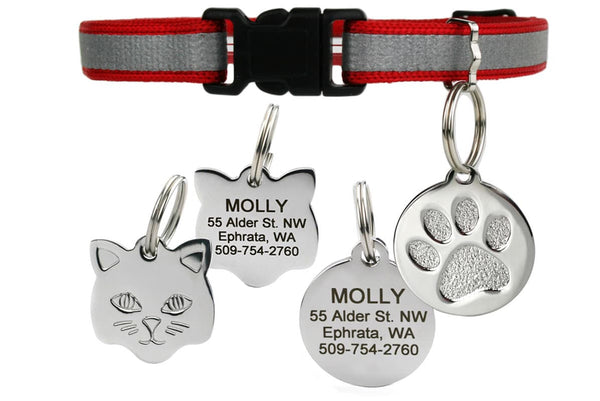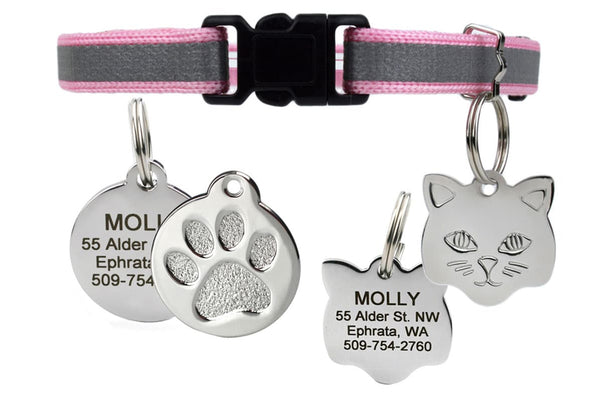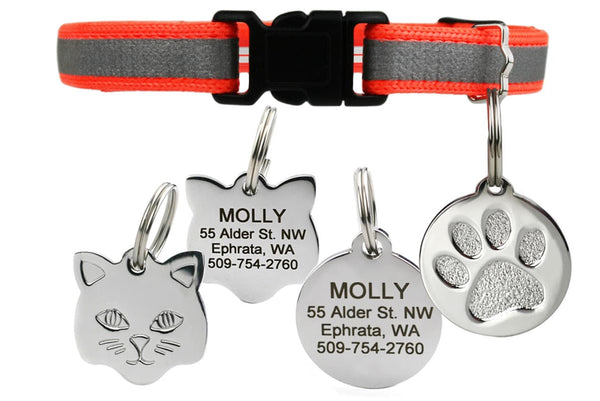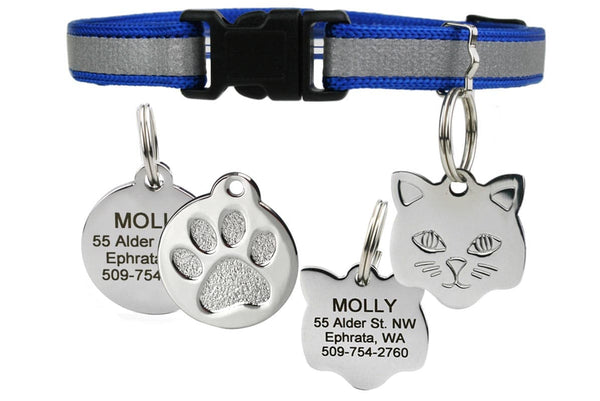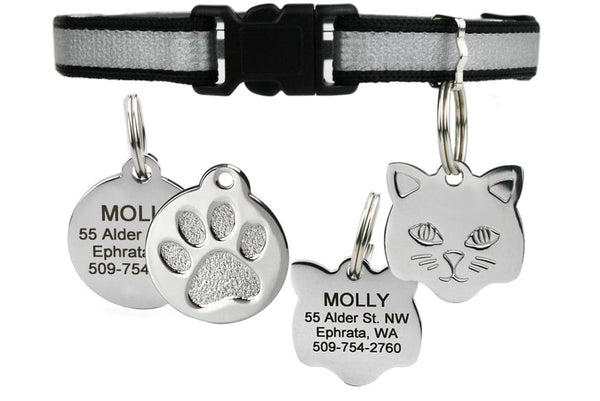 Reflective Cat Collar with Tag in Stainless Steel
This reflective cat collar with personalized ID tag is designed with safety and comfort in mind. Made with: durable but soft, non-snagging nylon webbing that features a highly reflective band to help maintain visibility in low-light settings, a breakaway safety buckle designed to release should the collar get caught, and a removable wildlife protection bell. The stainless steel ID tag comes in one of four shape options, and can accommodate up to 4 lines of engraved, personalized ID. And to ensure your cat's collar stay's spotless, it's machine washable for hassle-free cleaning.
Features and Benefits:
The highly reflective strip runs the length of the collar to keep your cat safe and visible in low-light.
The durable but soft snag-proof nylon material and breakaway safety buckle are designed to keep your cat safe in case the collar gets caught.
Includes a stainless steel cat ID tag available in one of 3 shapes, engraved with up to 4 lines of identification.
Machine washable, the collar comes in 5 color options and can adjust from 8 - 12 inches for the purr-fect fit. Collar 3/8 in wide.
Removable wildlife protection bell included.
Customer Reviews
Write a Review
Ask a Question
08/19/2022
Carolyn M.

United States
Tags great, collars could be better
The tags are great and professionally made. The collars are a little bit cheaply made- stiff and scratchy. Maybe you can find a better mfr. for those. Overall great customer service and good pricing!
07/14/2022
Janis S.

United States
Collar and tag look great!
I have this tag plus my cat's chip tag from Avid. It doesn't seem to bother him at all and I think he looks great. I also feel safe, knowing that if he were to get out, his identity is secure. Thanks so much. Janis
06/21/2022
LisaMarie D.

United States
Well made
Purchased 4 tags and 2 collars Well made. Received quickly Great products Thank you
05/24/2022
Tammy P.

United States
Cute Tag
I bought this for my friends kitty after getting a tag for my own a few months ago. She loves it and so does her kitty, Weasley!
04/21/2022
Clelia A.

United States
Princesa so happy
Fantastic...!! Thanks
Close (esc)
LABOR DAY SALE
In celebration of our pets working hard to keep us sane this past year
GoTags is offering 15% off sitewide!
Discount will be automatically applied at checkout
Age verification
By clicking enter you are verifying that you are old enough to consume alcohol.