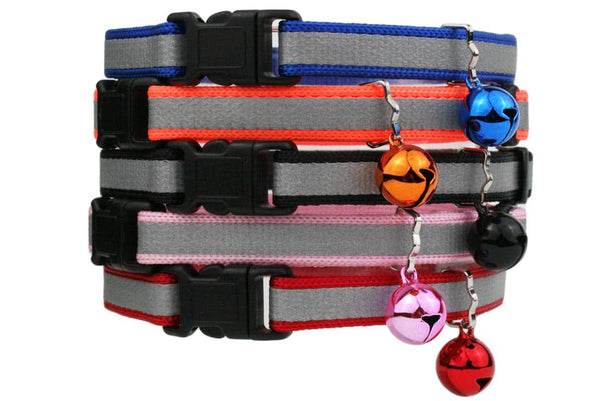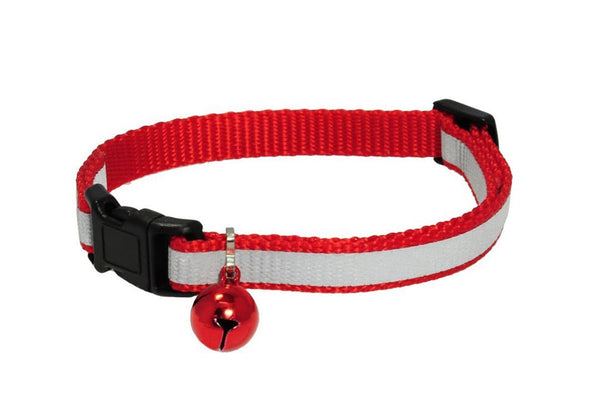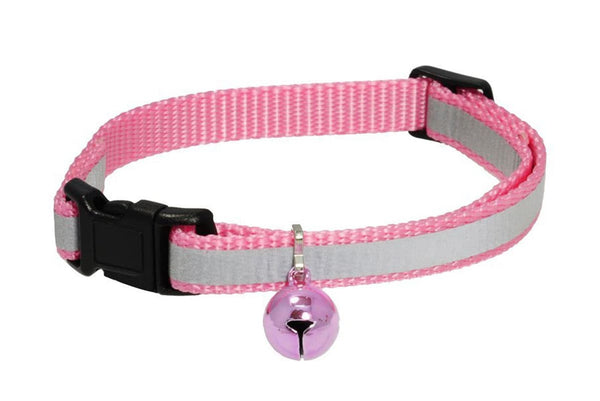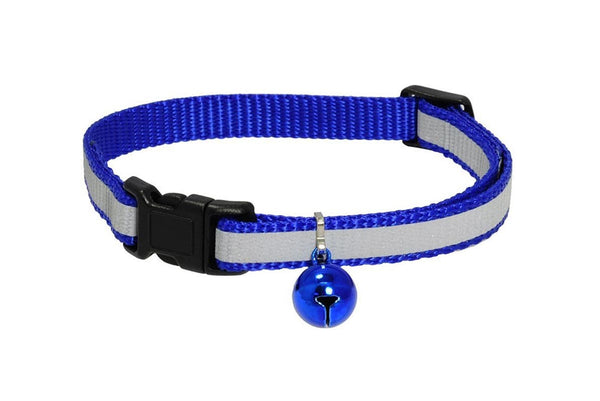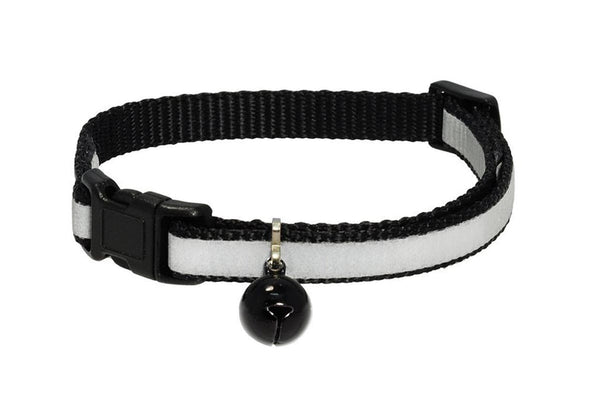 Reflective Cat Collar with Breakaway Buckle
Our highly reflective breakaway cat collars are designed to keep your cat or kitten safe with a safety buckle designed to release should your cat's collar become caught. Fully adjustable for optimal comfort and fit, your cat will feel comfortable, look great and have added safety in this nylon reflective collar.
Features and Benefits:
The highly reflective strip runs the length of the collar to keep your cat safe and visible in low-light.
The durable but soft snag-proof nylon material and breakaway safety buckle are designed to keep your cat safe in case the collar gets caught.
Machine washable, the collar comes in 5 color options and can adjust from 8 - 12 inches for the purr-fect fit. Collar 3/8 in wide.
Removable wildlife protection bell included.
Customer Reviews
Write a Review
Ask a Question
10/21/2023
Karen M.

United States
Great!
The tags are great, well done and arrived quickly. The collars are sturdy but also release easily if one of the cats gets stuck somewhere. Highly recommend!
04/10/2023
CJ

United States
Too short
Very reflective ...I'm unhappy with the length, though. It comes up too short on my regular sized adult cat, and it appears to have a bit of a slip to it, to the point that I'm afraid it won't stay adjusted. Doesn't feel very secure.
02/15/2023
Blanca A.

United States
One of the best products!
Its very sturdy and reflective at night which is very convenient for my black cat if he escapes at night. It does not break away easily which is fine with me since other breakaway collar that I have purchase open easily and I have to keep putting them on frecuently which is a bummer. Also is ajustable and won't leave extra material and looks cute on my cat. Overall a 10/10 for me and would recommend 100%
01/25/2023
Cynthia S.

United States
Excellent Collars!
This is our preferred collar for our cat and use it in conjunction with the Birdsbesafe collar. Our cat is out often and to prevent her from preying on birds she must wear her collar. She does occasionally come back with no collar which means she got into a tight space and needed to break free. We are much more at peace knowing she can get out of her collar without harm. These have a nice bell and you can have your pets name put on as well-very handy for a wandering cat. We buy only these-they are easy to fit and sturdy.
01/18/2023
Nancy A.

United States
Good product Great seller
Very much. It was easy to adjust the collar, and I really like the way the tag turned out. I will probably buy from you again.
Close (esc)
LABOR DAY SALE
In celebration of our pets working hard to keep us sane this past year
GoTags is offering 15% off sitewide!
Discount will be automatically applied at checkout
Age verification
By clicking enter you are verifying that you are old enough to consume alcohol.