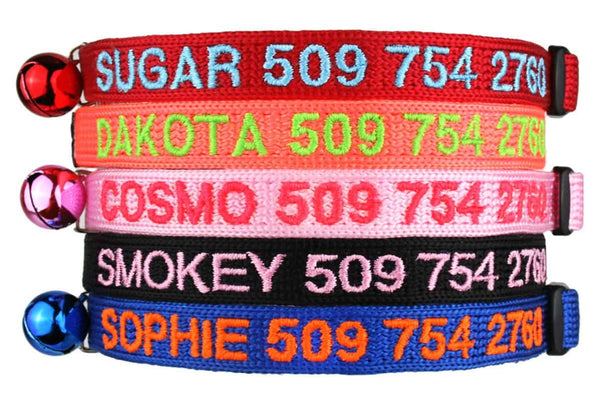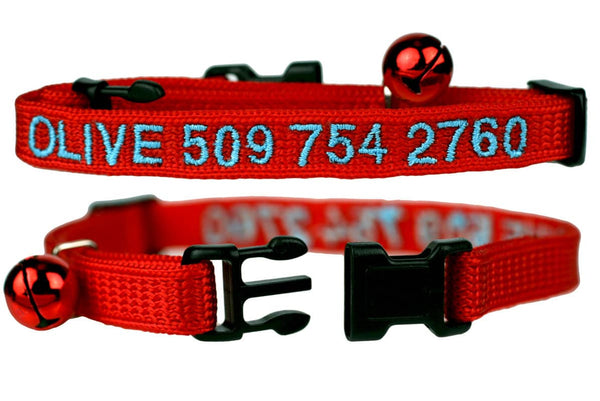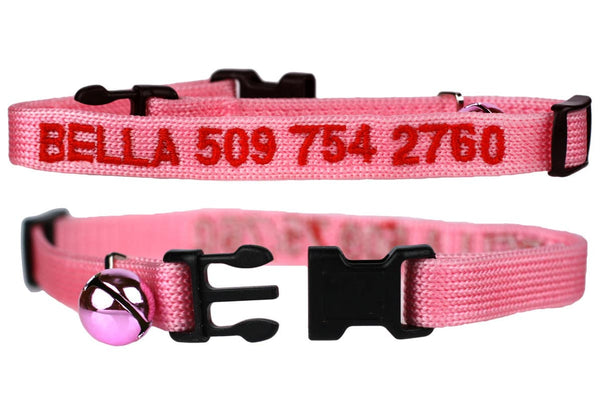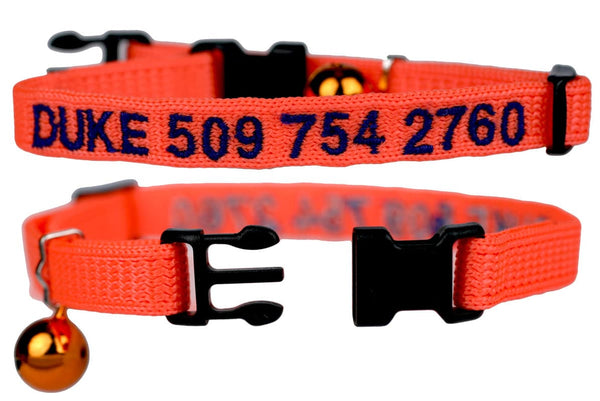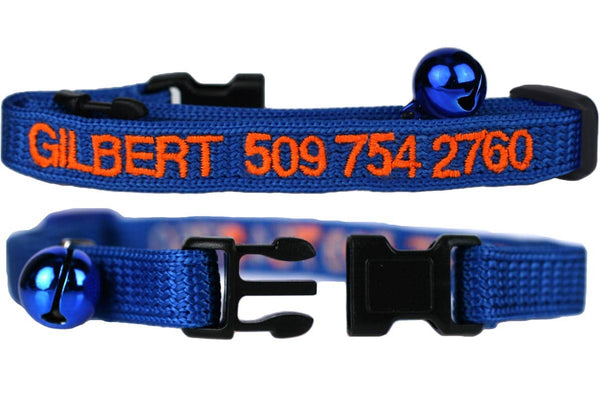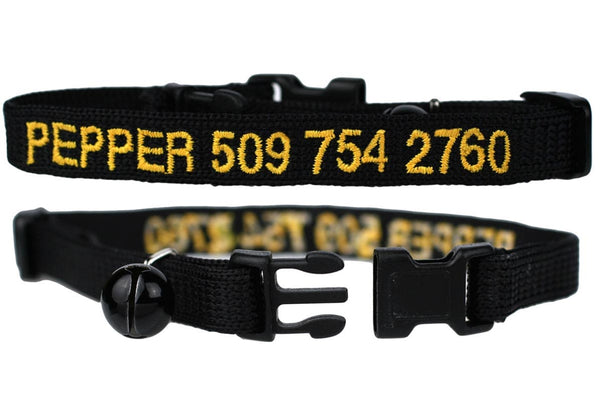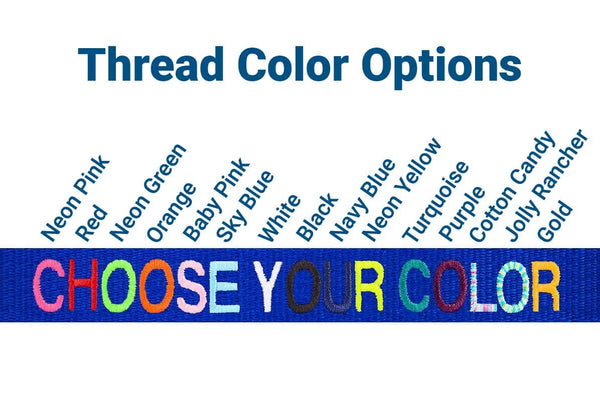 Personalized Embroidered Cat Collar with Breakaway Buckle
Your cat will stand out from the crowd in their very own personalized breakaway cat collar. Designed with safety and comfort in mind, the collar is made with durable but soft, non-snagging nylon webbing, and features a breakaway safety buckle designed to release should the collar get caught, so your cat can safely explore the outdoors or the living room without snagging on branches and other hazards. Customization means you can choose from 5 collar colors and one of 15 thread colors to permanently embroider your kitten's name and phone number (up to 21 characters) for identification. And to ensure your cat's ID stays spotless, it's machine washable for hassle-free cleaning. Far from ordinary this collar is purr-fect!
Features and Benefits:
Durable but soft snag-roof nylon material and breakaway safety buckle, designed to keep your cat safe in case their collar gets caught.
Embroider up to 21 characters (including spaces) with your cat's name and phone number, to ensure she always has ID.
Choose one of 15 thread colors to suit your cat's paw-some character.
Machine washable, the collar comes in 5 color options and can adjust from 8 - 12 inches for the purr-fect fit. Collar 3/8 in wide.
Removable wildlife protection bell included.
Customer Reviews
Write a Review
Ask a Question
12/02/2023
Laurie S.

United States
Bright Orange Collars w/Black Text for My Cats
I mistakenly ordered dogs collars instead of cat collars this time. The customer service rep was very kind, telling me how to easily return them. They would re-do my cat collar order for me. What great customer service! They corrected my order right away and I got it two days later. I buy matching collars that are bright, with dark embroidery text. Having their phone number is a big help in case my one door dasher sneaks out.
11/26/2023
Gina R.

United States
IDEAL CAT COLLAR
This is my third or fourth order from GoTags and can say that I'm a fan. The colors are fun and the collars are super durable. And AWESOME customer service … orders arrive promptly! Great product.
11/19/2023
Valerie O.

United States
Perfect for our cat who regularly sneaks outside
The color is great. Good quality, text very clear. I attached several bells that I bought on Amazon, so she's quite loud. I can hear her any place in our very large yard and woods. If she ever gets lost, the information on her collar will let people know who to call
11/02/2023
Mike F.

United States
Great products
Been using GoTag collars on my 4 mini Doxies for years. I use the cat break-away collars because sometimes they get a tooth caught while playing and we almost had a strangulation
10/26/2023
Carol W.

United States
Good while it lasted
I loved the look of the collar - pretty colors and easy to read. But, after about 2 weeks, the collar came off somewhere outside. A short lived purchase.
Close (esc)
LABOR DAY SALE
In celebration of our pets working hard to keep us sane this past year
GoTags is offering 15% off sitewide!
Discount will be automatically applied at checkout
Age verification
By clicking enter you are verifying that you are old enough to consume alcohol.