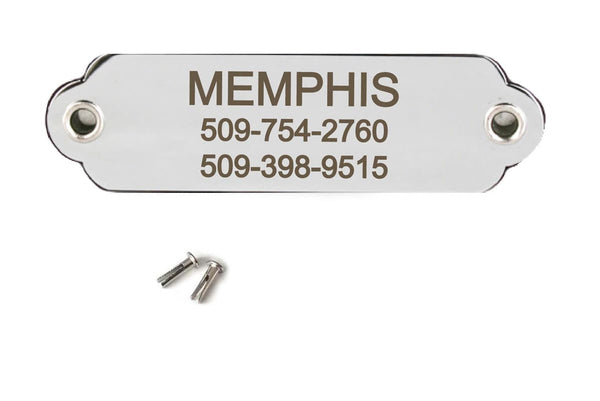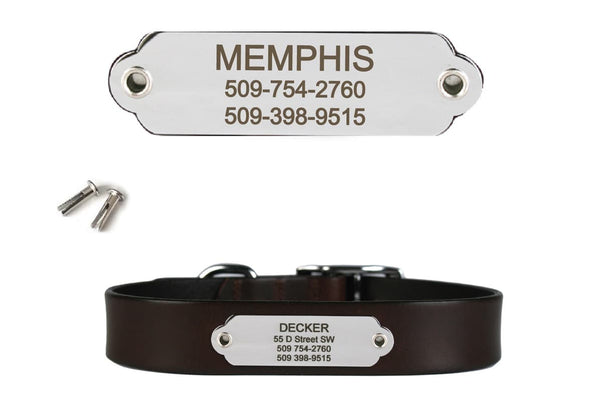 Rivet On Dog Collar Nameplate in Stainless Steel
This personalized, rivet-on dog collar nameplate made of long-lasting stainless steel comes custom engraved with up to 4 lines of personalized ID. The permanent laser engraving is clear and attractive on a highly polished tag. Name plate tag fits dog collars 3/4 inches wide and larger. A set of 2-piece rivets are included for installation.
Features and Benefits:
Size: 2.25 x .625 in
Durable stainless steel tag with polished finish, personalized with up to 4 lines of custom engraved ID.
Includes a set of 2-piece rivets for installation.
Installation:
We recommend that you use a tool for punching the rivet holes into the collar you'll be installing the nameplate on and that you use a hammer or mallet to tap the rivets into place.
Customer Reviews
Write a Review
Ask a Question
10/26/2023
Phil I.

Canada
It's OK
First, it was supposed to ship in 1-2 days (not be received, but get put on a truck from the manufacturer). That took 1 week from the time of order until UPS picked it up. Once it was received, the quality of the tag is good, but the included rivets are a joke. I had to go purchase other rivets in order to attach it to the dogs collar.
09/24/2023
Johnny R.

United States
Love the tags
The tags were receive very quickly and are a great quality material and look great.
07/13/2023
Rebecca P.

United States
Excellent
Came out exactly as expected. Attaches to the collar so no jangling. They were able to fit our address between the names and the 2 phone numbers, still very clear and easy to read.
05/08/2023
Lynn B.

United States
LB
Tags and engraving are Perfect! Both dogs travel with great ID. Love the stainless steel. Engraving easy and clear to read. Thank you for a great product.
03/31/2023
Kristin F.

United States
Tags
My dogs new name tags look really good. They are great quality and have clear and easy to read engraving. Very affordable and the shipping was really fast.
Close (esc)
LABOR DAY SALE
In celebration of our pets working hard to keep us sane this past year
GoTags is offering 15% off sitewide!
Discount will be automatically applied at checkout
Age verification
By clicking enter you are verifying that you are old enough to consume alcohol.