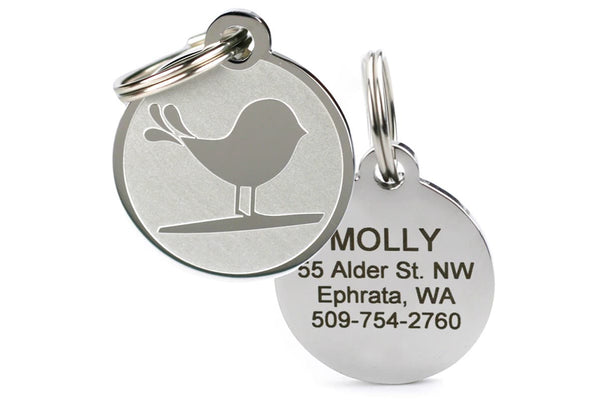 Pet ID Tag with Bird in Stainless Steel
Durable and long-lasting, this stainless steel pet tag is embossed with a cute bird design. Engraved with up to 4 lines of personalized, custom text, the laser engraving is clear to read on an attractive, polished tag. A little bird tells us this unique pet ID tag complements your cat or dog's unique character.
Pair with our Pet Tag Clip for easy collar attachment.
Features and Benefits:
Size: 1 in
Durable stainless steel tag with an attractive polished finish, accommodates up to 4 lines of personalized ID.
Split ring attachment included.
Customer Reviews
Write a Review
Ask a Question
07/23/2023
Kacie W.

Canada
Cat Tag
I am very happy with this tag. It is for my Siberian Forest Cat harness. Like others, I also think it would be a bit heavy for a collar that is worn all the time. The aluminium tags are better for that. This one is beautiful, I love the bird, and the writing is easy to see.
06/20/2022
Joan H.

United States
Great quality!
I loved it! I was very impressed with the quality of the name tag and the price. There is nothing "cheap looking" about it. I have seen similar items in high end catalogs for five times the price!
04/15/2022
Zefora A.

United States
Way too heavy for a cat!
I ordered 2 of these tags for our 8 month old kittens. I wasn't expecting them to be so thick and heavy! They are decent quality but there's no way we'll be able to use them, even when the cats are full grown. They're just too big, even at the smallest size available. I've never even purchased a tag this heavy for a dog. I tossed these in a drawer and went to the local pet store to get 2 smaller aluminum tags engraved instead. If you're shopping for a cat or small dog, don't buy a steel tag.
03/05/2022
Monique F.

United States
Beautiful tags with fun design
Very Nice tags with a fun design! Awesome engraving very easy to read!
01/10/2022
Terry B.

United States
Such a cute dog tag!
Very cute tag for my schnauzer! Really happy with the quality and the size. A good buy!