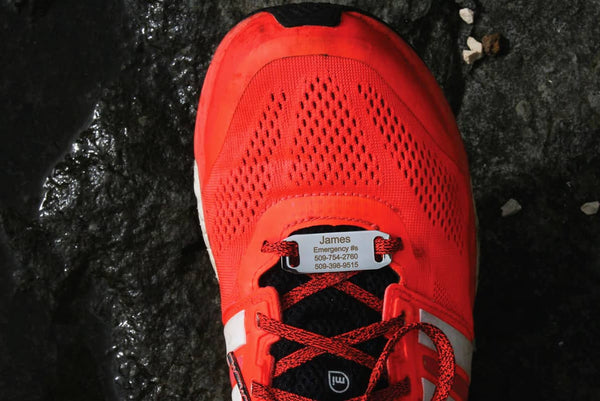 Shoe Tag ID in Stainless Steel
Our personalized shoe tag for runners, cyclists, athletes, travelers, or children makes great identification for the road. Lightweight, convenient shoe ID tags provide safety identification and important details to First Responders such as emergency contacts and medical conditions. Personalize these shoe tags with any text, up to 4 lines of custom engraved ID. Made to be extra durable, the long-lasting stainless steel shoelace tags easily thread onto any shoelace.
Features and Benefits:
Attaches securely to any shoelace up to 3/8 inch wide.
Personalize with any text, up to 4 lines.
Durable stainless steel tag with an attractive polished finish.
Dimensions: 1.5 x 0.6 inches
Customer Reviews
Write a Review
Ask a Question
11/25/2023
Kent S.

United States
Identification for runners
This name tag is perfect...it is unobtrusive and will identify the runner if there is a medical emergency. I purchased a few of these because I had a terrible fall while jogging and was unconscious for a short period of time. If it was more severe I had no other form of identification on me. These tags put my wife at ease Well worth the price.
10/08/2023
Kent S.

United States
Unobtrusive
I recently took a nasty fall while jogging and lost consciousness for a short period of time. Suffered a concussion but no other long term effects. Reflecting upon this incident I would suggest that in lieu of carrying other identification, this is a perfect form for emergencies. Simple to attach to your laces and well constructed.
07/17/2023
John B.

Canada
Best tags ever!
Bought my first one for my running . I liked it so much I bought another for my other pair. I also bought two luggage tags for my bicycles . I don't like to carry ID with me when I run or bike so these satisfy both me and my wife who worries about me. Great quality products.
04/17/2023
Chris H.

United States
Excellent Customer Service
The tags are very helpful. Easy to read. Helpful safety item, and economical. But more importantly, the customer service was very responsive and friendly. My first order shipped but did not arrive (a USPS issue). I contacted customer service and they responded promptly and send out a second replacement order. They were extremely helpful and professional.
03/09/2023
Sandi L.

United States
Awesome!
Awesome shoe tag - quick, easy ordering and fast delivery. Thanks!