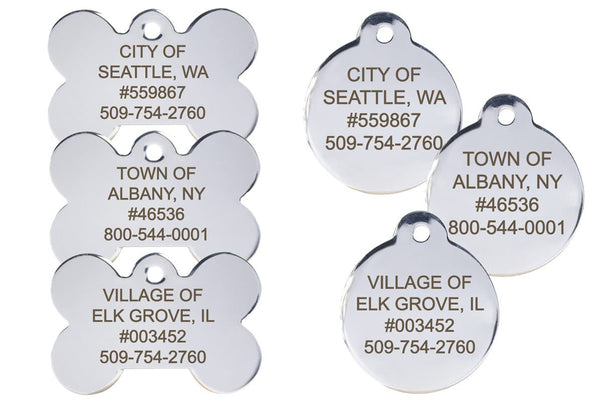 Municipal Dog License Tags in Stainless Steel
Bulk / wholesale municipal pet license tags for dogs and cats. City dog license tags personalized with your city, state, and serialized numbering. Includes split ring attachments. Premium, long lasting stainless steel pet license tags with a polished mirror finish.
When ordering select your municipality type (TOWN OF, CITY OF, COUNTY OF or VILLAGE OF) and provide the additional three lines of tag text as seen below:
CITY, STATE
LICENSE START #
PHONE NUMBER
Zip tie packing in packs of 50 (sequential order). Minimum 100 qty order for zip tie packing. Different packaging options are also available as a product extra.
Each tag includes split-ring attachments.
Customer Reviews
Write a Review
Ask a Question
01/05/2022
Harold B.

United States
Good Quality and Quick Service
I like the quality of your tags. I appreciate how quickly they were done after I placed my order. Also I appreciate the tags each being in its own little zip-lock bag. I like having the split rings to put with the tags when I give them to customers. We give out new tags in numerical order, so I was a little distressed by have the 200 hundred of them jumbled together in the mailing envelope.
Close (esc)
LABOR DAY SALE
In celebration of our pets working hard to keep us sane this past year
GoTags is offering 15% off sitewide!
Discount will be automatically applied at checkout
Age verification
By clicking enter you are verifying that you are old enough to consume alcohol.